These are the books Barack Obama loved in 2017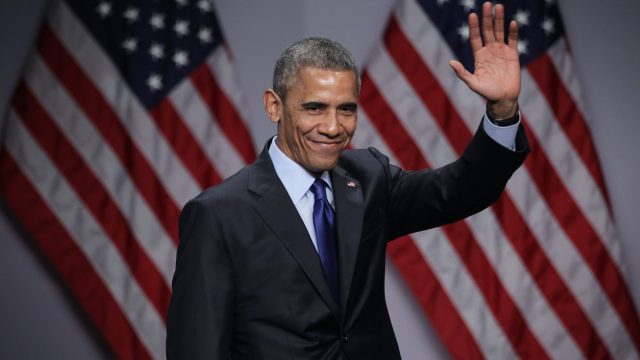 It's no secret that former President Barack Obama has been living his very best life since leaving the White House. We've seen the seemingly endless selfies with celebrities and royals, we've seen the vacation photos, and now Barack Obama is sharing his favorite books of 2017. Like we always say, a year spent reading is a year well-spent.
On New Year's Eve, Barack Obama took a moment to share the best books he read this past year, and we're paying attention. One common trait between the world's most successful people and the strongest leaders is reading. In fact, when Warren Buffett was once asked about the key to success, he pointed to a stack of nearby books and said, "Read 500 pages like this every day. That's how knowledge works. It builds up, like compound interest. All of you can do it, but I guarantee not many of you will do it." Noted.
While it doesn't look like Barack Obama was reading 500 pages every day, he did put together a rather impressive list of books that we think are definitely worth checking out.
"During my presidency, I started a tradition of sharing my reading lists and playlists. It was a nice way to reflect on the works that resonated with me and lift up authors and artists from around the world," he shared in a post on Facebook. "With some extra time on my hands this year to catch up, I wanted to share the books and music that I enjoyed most."
Sing, Unburied, Sing by Jesmyn Ward is one of our favorites too.
The award-winning author penned a beautiful book about 13-year-old Jojo and his baby sister, Kayla, but it's not your typical coming-of-age novel. The story follows a tangled thread of sadness linking multiple characters. As it unravels, we see there is so much more than meets the eye.
It's a brilliant story of love and resilience.
Obama also recommends The Power by Naomi Alderman, which was described by Margaret Atwood as "Electrifying! Shocking! Will knock your socks off! Then you'll think twice, about everything." And being as wonderful as he is, the former president tried to include something for everyone. "Bonus for hoops fans: Coach Wooden and Me by Kareem Abdul-Jabbar and Basketball (and Other Things) by Shea Serrano."
Thanks for the recommendations, Barry. Our reading lists just got a little longer.