14 perfect gifts for the book-lovers in your life that aren't books
With Thanksgiving (just about) over, and Black Friday right around the corner, it's time to get serious about our Christmas shopping. We want to get everyone the perfect gift, but we don't want to break the budget. According to Forbes, most holiday shopping will happen in December, not on Black Friday, but there's no time like the present to start planning!
We all know that gifts aren't about how much you spend, but about the thought that you put into it. Everyone loves a gift that makes them feel like you really get them. So if you have a friend or family member that really loves books, why not tap into that? Instead of getting them just a book, because lots of people do that, we've put together a list of great gifts for the book-lovers in your life that aren't books.
1. Literary Art Prints from authors they love.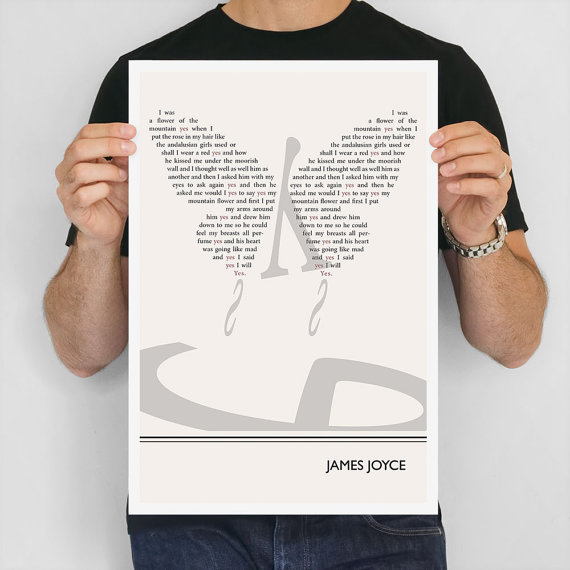 These stunningly simple graphic prints are available for a bunch of classic authors like Virginia Wolfe, Victor Hugo, and James Joyce (shown above). Each print is available from Etsy for $24.00.
2. Literary Temporary Tattoos show off a bookish edgy side.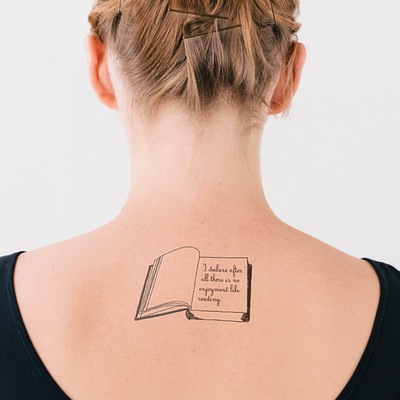 We love these fun temporary tattoos with literary quotes. This Pride and Prejudice tattoo reads, "I declare after all there is no enjoyment like reading." Find this and other literary tattoos from Litographs for $5.00 each.
3. These "BOOK" ends offer both fashion and function for any bookshelf.
We love the raw wooden look of these bookends that spell "BOOK." They're a chic addition that can keep books from toppling over while also classing up a space. They're available from Etsy for $39.00.
4. This hilarious Wizard of Oz bookmark will keep the place in any book.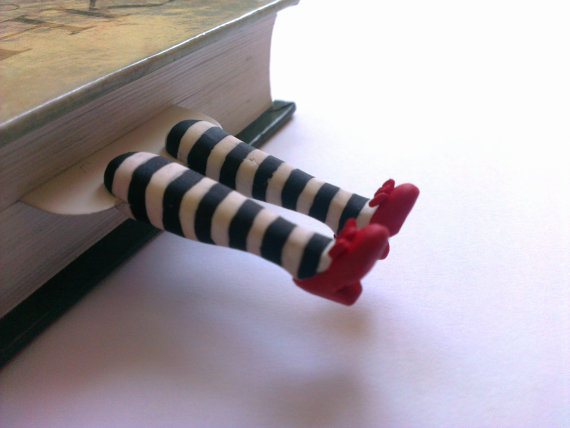 This adorable bookmark of the Wicked Witch of the East being crushed under the house in The Wizard of Oz is too much! This incredibly detailed bookmark is available from Etsy for only $17.00.
5. This Inspirational Oscar Wilde Necklace will remind book lovers to keep imagining.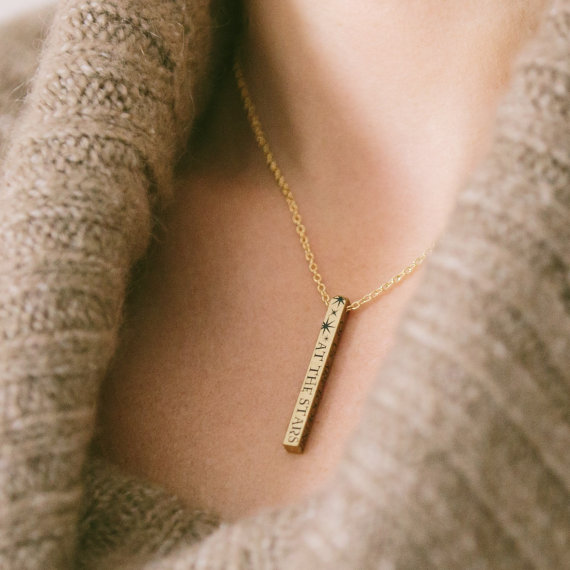 This necklace quotes the famous British playwright saying, "We are all in the gutter, but some of us are looking at the stars." That's a great quote that we'd love to wear with us always, especially in a stunning pendant like this one. It's available at Etsy for only $32.00.
6. Remember the importance of books with this awesome Banned Books Pouch.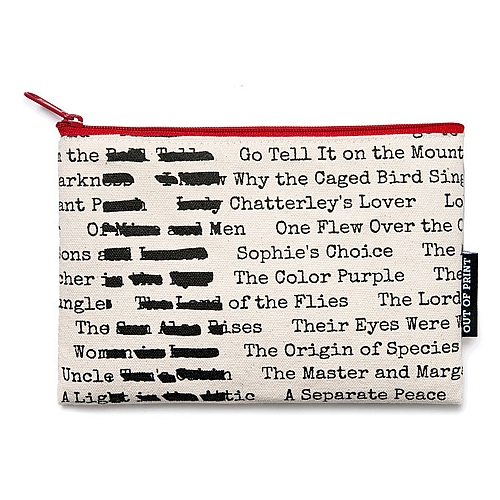 This fun pouch can be filled with pencils, makeup, or other accessories while also reminding book-lovers how important literature is. The pouch features lists of banned books, some of which are redacted. Find this pouch at PBS for only $11.99.
7. These Edgar Allen Poe-ka Dot Socks are a pun-lovers dream.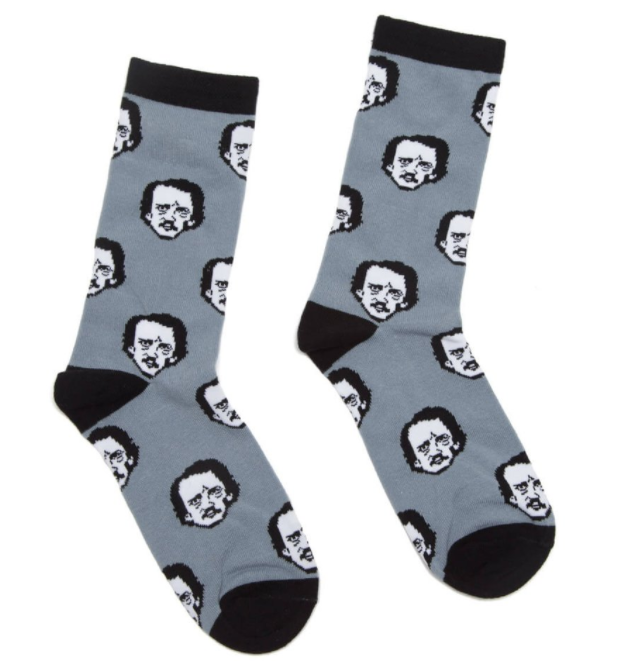 OMG these are amazing. We love a good pear of graphic start, and we love how wonderfully weird these are with all of the Edgar Allen Poe faces. They're perfectly appropriate for any Poe fans. Find them at Out of Print Clothing for $10.00.
8. This Library Stamp Shirt shows off a book-lovers true home.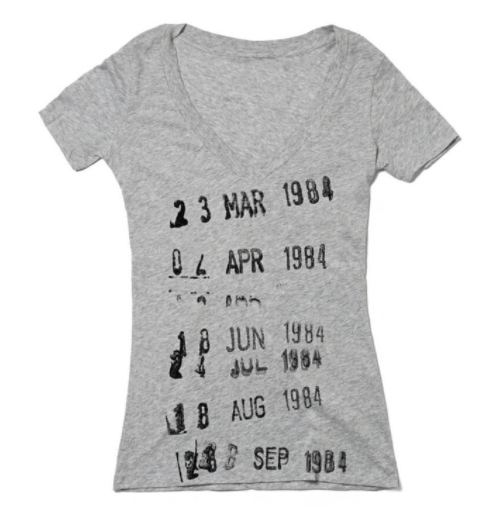 The true book-lover is a regular at both the library and the bookstore, so this fun graphic tee is absolutely perfect. We love the simplicity and the graphic, crooked library stamp numbers across the front. It's available from Out of Print Clothing for $28.00.
9. Anyone can run their own library with this adorable Personal Library Kit.
Know someone who likes to lend out all their books? This fun kit is a great way to keep track. This kit includes a stamp, checkout pockets, and check out slips. You can find it on Amazon for $10.61.
10. This Ampersand Cheese and Cracker board will class up any book club.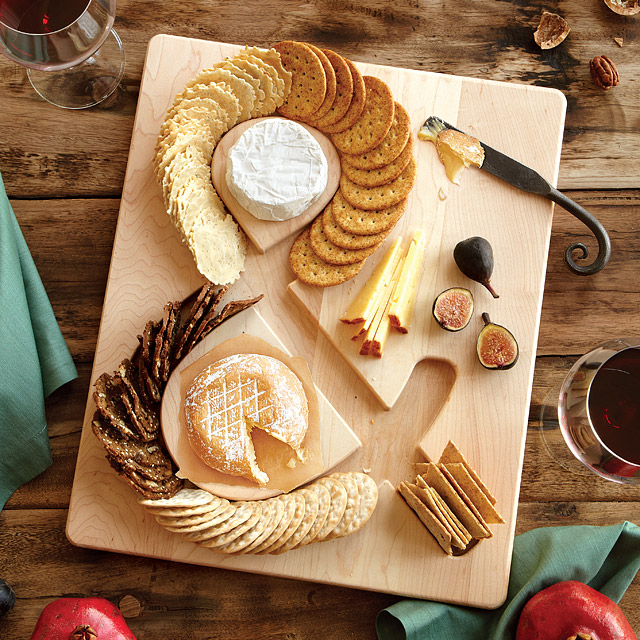 We love how the grooves that create the ampersand make a perfect place to organize your crackers. What a brilliant idea. This should seriously be a required platter at any book-lovers house. Find it at Uncommon Goods for $48.00.
11. This transparent Book Weight is a brilliant way to hold a book open.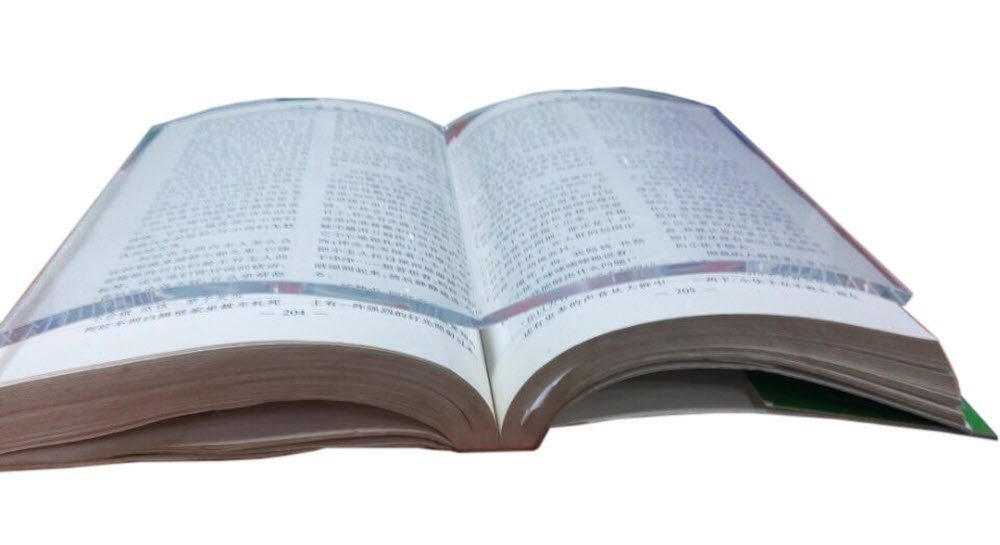 We didn't realize how desperately we needed a device like this to hold open our books until we saw it! This could be a life changing gift for the book lover in your life. Find it on Amazon for $29.50.
12. Give a book-lover the perfect beverage compliment with these Novel Teas.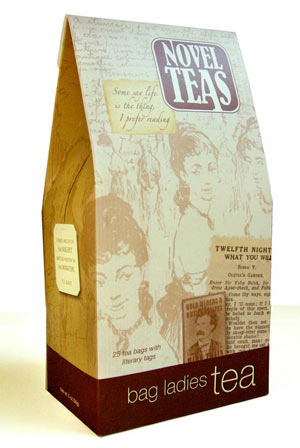 This English Breakfast teas have quotes from famous literature on the tabs, which is the perfect pairing with a great book. You can pick them up in a box of 25 from Bag Ladies Tea for $12.50.
13. This Lord of the Rings Tote makes a fun way to carry all the books.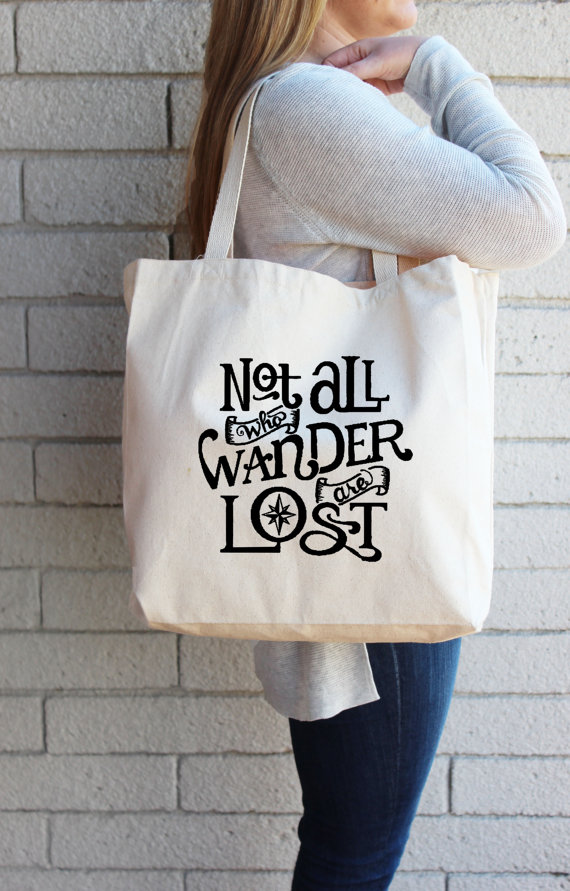 The quote from The Lord of the Rings, "All that is gold does not glitter, not all those who wander are lost" is one of our favorite quotes. Plus, it's a great tote for wandering around town. Any literary friend or family member will appreciate the inspirational quote. You can find this tote on Etsy for $22.00.
14. Sometimes a book-lover loses track of which books they own, so this classy Book Embosser can help them keep track.
This customizable book embosser allows your book-lover to artfully emboss all of their books, so when they trade them around, it's easy to remember what books are theirs. Plus, it gets bonus points for its seriously classy vibe. It's available from Horchow for only $26.00.
Any of these awesome gifts will have the book-lover in your life singing.