Parasite's Bong Joon-Ho had a Mean Girls moment at the 2020 Oscars, and Twitter can't deal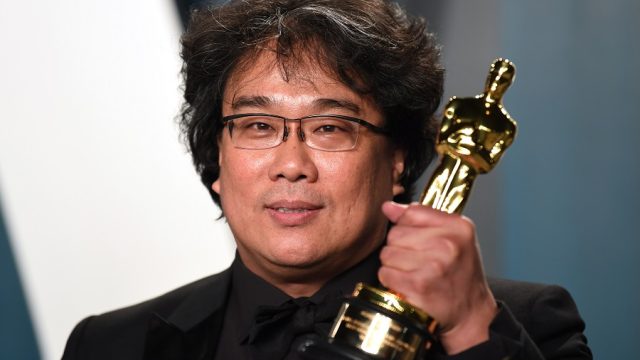 If you missed the 2020 Oscars last night, we'll sum it up for you in one name: Bong Joon-ho. Bong and his South Korean social thriller Parasite swept the awards ceremony, picking up four Oscars for Best Original Screenplay, Best Director, Best International Film, and the history-making Best Picture. And as if that weren't enough, Bong's Best Director acceptance speech is going viral for its comparison to another acceptance speech, from the fan-favorite movie Mean Girls. Yes, we'll explain.
Bong wanted audiences to know that he wouldn't have made it to the Oscars stage if it weren't for the directors that paved the way for him—specifically Martin Scorsese and Quentin Tarantino. During his Best Director win, Bong pulled a Cady Heron from Mean Girls and asked if the Academy would allow him to break his trophy into bits in order to award his fellow directors nominated in the category.
"If the Academy allows," Bong told his fellow directors via his translator Sharon Choi, "I would like to get a Texas chainsaw, split the Oscars trophy into five, and share it with all of you."
He then said, "Thank you. I will drink until next morning," and it was then that we gave him a standing ovation.
Perhaps Bong recently saw that Tina Fey is bringing Mean Girls back onto the big screen following the Broadway show's successful run. Maybe he was inspired by that famous conclusion.
false
Come on, Academy. Let the man do what he wants! If anything, maybe Fey will let Bong direct this upcoming rendition of the classic early-2000s hit. We certainly think his résumé is stacked enough to get the job.