"Bones" is officially done filming! Let the countdown to the final season begin!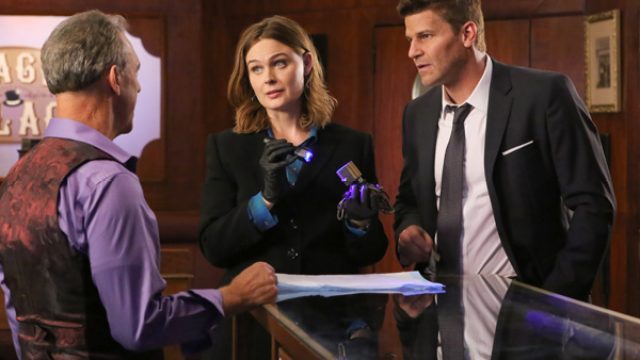 Congratulations, or tears, are in order for Bones, which is officially done filming it's final season! The Fox series has wrapped on its twelfth and final season and it's so bittersweet.
On Monday, the last episode of the crime series ended its long and successful stint of filming and now we're even more excited for the final season to premiere in January.
All last week, and into this week, the cast of Bones has been sharing farewells and goodbyes on social media and it's giving us all the feels.
"Thank you Dr. Jack Stanley Hodgins IV. It was an honor to play you these past dozen years. Truly so. Good night, good bye. Adieu. AND...scene," T.J. Thyne, who plays Jack Hodgins on the show wrote on a picture of him sitting alone on set.
https://www.instagram.com/p/BN877BVgj-g
"Quiet, on the set. The show has left the building," he wrote on another sad photo of the lonely set on Saturday.
https://www.instagram.com/p/BN15OhMg1AZ
Bones wrapped on the 12th day of the 12th month for its 12th episode in its 12th season at the very same location spot they filmed the pilot at. Yes, this show is blowing our minds and we love it even more now.
https://www.instagram.com/p/BN40N3ZAP4Q
"Series wrap on Angela Montenegro. Pics from my first day on set and one of the last! Thank you @BonesonFOX for this remarkable experience," Michaela Conlin, who plays the artist turned Jeffersonian team member, Angela, tweeted on Tuesday.
The show's leading man Agent Seeley Booth, played by David Boreanaz also took us on an emotional farewell journey.
"Thank you Em for always being there during this amazing 12 seasons on @bonesonfox . Forever grateful," Boreanaz wrote on a photo of him with Emily Deschanel aka Temperance "Bones" Brennan.
https://www.instagram.com/p/BNxj3q9AMAd
He also posted a group selfie last week of the majority of our favorite characters getting ready to say goodbye.
https://www.instagram.com/p/BNu5zXKAr9B
On Tuesday, Boreanaz even gave fans a sneak peek of the very last episode, from a far away shot of the final scene between Booth and Bones and we are freaking out.
"Go to the light….setting the shot for the last shot of the series @bonesonfox #Bones12," he captioned the mini video.
https://www.instagram.com/p/BN9Ucr5A6OO
The entire cast celebrated their long-running series with a festive wrap party on Saturday night and again we wish we were a part of this TV family.
Bones returns for its final season on January 3rd, 2017, so mark your calendar!