Will a bomb cyclone affect New Jersey today?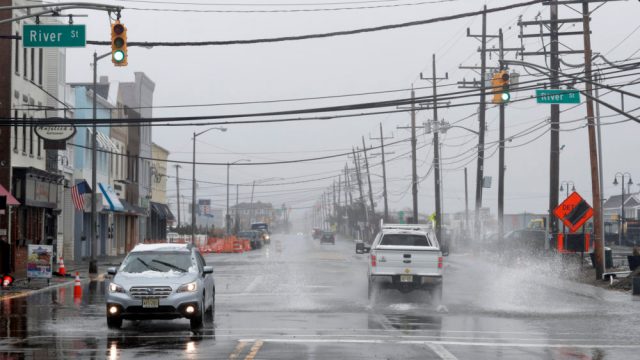 Residents along the East Coast are currently experiencing a powerful nor'easter storm that's pummeling the area with strong winds, heavy rain, and snow in some places. Dubbed "Winter Storm Riley," the storm is expected to turn into a bomb cyclone if the pressure drops. But will it affect New Jersey? There's definitely a possibility.
At this point you might be thinking: What exactly is a bomb cyclone? It's a powerful, low-pressure system that rapidly intensifies. Basically, the nor'easter might undergo bombogenesis, which is a drop in atmospheric pressure of at least 24 millibars over 24 hours or less.
According to NJ.com, rain will be the heaviest today, with consistent winds of 25-35 mph, including wind gusts topping 60 mph. Officials are also worried the storm could take a chunk out of beaches that are still being repaired because of damage from previous storms.
People living in the New Jersey area are already feeling the effects, and some are posting videos via Twitter.
https://twitter.com/udfredirect/status/969579300541423616
Hundreds of flights have been cancelled, and additional delays are expected in New Jersey as the weather intensifies throughout the day. Those with travel plans are being encouraged to check for cancellations.
Other parts of the East Coast are taking extra precautions. "Take this storm seriously! This is a LIFE & DEATH situation for those living along the coast," the National Weather Service in Boston tweeted.
If you live on the East Coast, this weekend is the perfect time to stay indoors and catch up on your favorite Netflix series. Stay safe!