FYI: A winter storm "bomb cyclone" is coming, and 2018 is already off to a cold start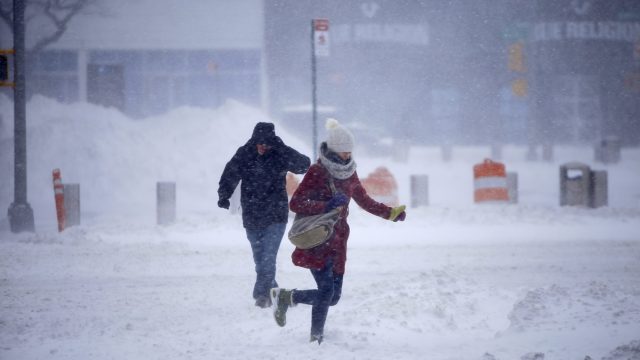 Ah, 2018. While it seemed like we were getting off to a much better start than 2017 (and hell, way better than 2016), it appears as if this trip around the sun will also be a #struggle. Three days into the year, a whole bunch of crazy things have already happened, and now, there's a pretty big situation on the horizon — a bomb cyclone is coming for the East Coast, and it is exactly what it sounds like, and yes, it's terrifying. So you know, happy 2018! Here's something called a bomb cyclone for you to deal with right off the bat!
The country has been facing record cold temperatures for the past week (shoutout to everyone else who also got to spend the holidays in -3° temperatures) and a heavy storm is predicted to hit the country at the end of the week. As USA Today eloquently puts it, this storm is basically going to be a winter hurricane – so think intense winds, precipitation, and downright awful conditions. But in winter. With freezing temperatures, and most troublesome, a large amount of snow and ice.
The term for this is actually called "bombogenesis," and bombogenesis turn into "bomb cyclones." According to the National Weather Service, this happens when, "a midlatitude cyclone rapidly intensifies, dropping at least 24 millibars over 24 hours. A millibar measures atmospheric pressure. This can happen when a cold air mass collides with a warm air mass, such as air over warm ocean waters. The formation of this rapidly strengthening weather system is a process called bombogenesis, which creates what is known as a bomb cyclone."
Cool.
In layman's terms, a big, scary storm is coming, and it's expected to hit the East Coast, all the way from New England down to…Florida. Yes, Florida is currently in a winter storm warning right now. It's expected that the Sunshine State will experience freezing temperatures (and in some areas, maaaaaaaybe snow). Moving north, states from Massachusetts to Maine are expected to get snowfall ranging from six inches to…a foot. That is a lot of snow, and this storm could simply be classified as a nor'easter. But no, let's give it a scarier name and add in coastal flooding and high winds and call it a BOMB CYCLONE.
2018, we trusted you.
If you're worried about the impending weather for one of the affected areas, you can keep up with the National Weather Service on their Twitter, follow Weather.com for the most up to date information, and here are some things you can do to prepare ahead of time for the storm. Stay safe – and stay warm.