Bollywood star Aishwarya Rai Bachchan truly looks like a Disney Princess at Cannes
Some people look good in anything; Aishwarya Rai Bachchan is one such person. The Bollywood actress and L'Oreal spokesperson always looks stunning, but at the Cannes Film Festival she took her fashion chops to the next level. She showed up in a stunning, dreamy dress that will make you immediately think of a Disney Princess. Not everyone can pull off this look, but Aishwarya Rai did so with style and aplomb. Check out her dress below, and see why we're hoping this trend of ballroom beauty won't disappear anytime soon.
Can you say Disney Princess?
The dress, by Mark Bumgarner, is simply a sight to behold: a delicate and dainty ivory shade that fits Aishwarya Rai to perfection, accentuating her slender waist. But it's the details that make this dress a must-have item. We particularly love the intricate embroidery of flowers all around the base and edges. They're a sweet and subtle pop of color that highlights the dress without overwhelming the woman wearing it.
With a dress like this, it's important to keep the rest of the look simple and understated. Aishwarya Rai let her lustrous long hair fall loosely around her shoulders in relaxed waves. The makeup (by L'Oreal, of course) harkens back to classic movie stars of the past with red lips and dark eyes. The final product is stunning, with Rai looking ready to rock the red carpet at Cannes. We love this dress (and are totally looking for cheaper versions online for our next fancy affair).
Also, does she not look exactly like Cinderella here?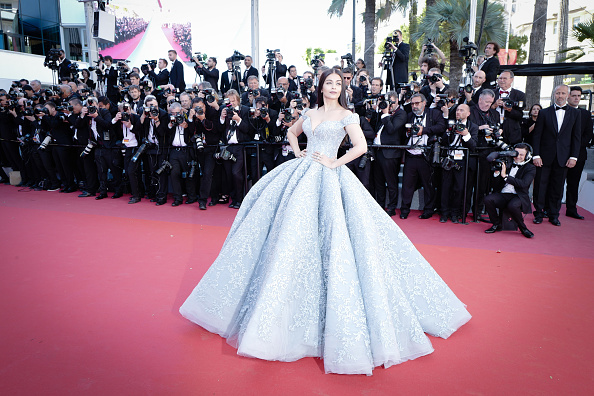 YAS.