The most popular show in the U.K. in nearly a decade is coming to Netflix in October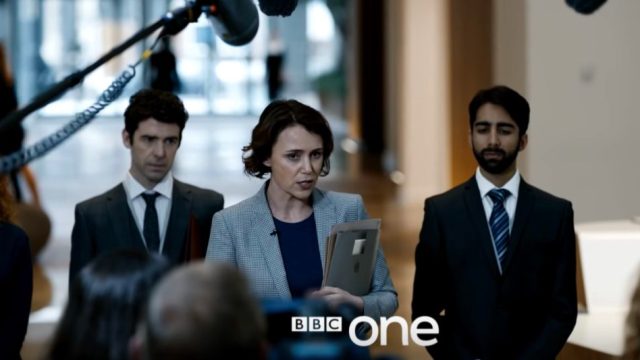 The wait for Killing Eve Season 2 just got a little bit shorter, thanks to a new political thriller starring one dearly departed Robb Stark. Bodyguard, the political thriller that dominated British television this past month is swiftly making its way stateside, courtesy of Netflix.
The BBC One drama, which stars Game of Thrones' Richard Madden and Line of Duty's Keeley Hawes, captivated its British audience, becoming arguably one of the most popular shows in the U.K. in a decade. Netflix swiftly picked up the international rights to the series and plans to release it in the U.S. in October.
The dramatic six-part political thriller follows David Budd (Madden), a veteran of the war in Afghanistan, who is struggling with PTSD when he's assigned to the security detail of the ambitious home secretary, Julia Montague (Hawes). A rising political star, Julia is a major proponent of the war David fought in, and her ideology goes against everything he believes in. But naturally, in the Jed Mercurio-created drama, nothing is what it seems.
The show is chock full of jaw-dropping twists and turns, and based on the reaction from U.K. viewers, it's a must-see.
https://www.youtube.com/watch?v=jZj4M_Qz-mI?feature=oembed
It seems the original King in the North lives on—for now, that is.
According to BBC News, 11 million viewers tuned in for the season finale of Bodyguard, making it the most-watched drama on BBC since the Doctor Who Christmas special in 2008 and the most-watched in the U.K. since Downton Abbey in 2011.
While viewers worldwide will finally get to see what all the fuss is about next month, it appears Bodyguard may not be done quite yet. According to Mercurio, talks for a second season of the political thriller are in the early stages. However, whether David Budd and Julia Montague survive to return for more is a different story. If Madden's many behind-the-scenes Instagram photos are any indication, there's no telling what's going to happen—or who makes it through the season alive.
Bodyguard is set to begin streaming on Netflix on October 24th.