Women in Sri Lanka went up against a body-shaming billboard and won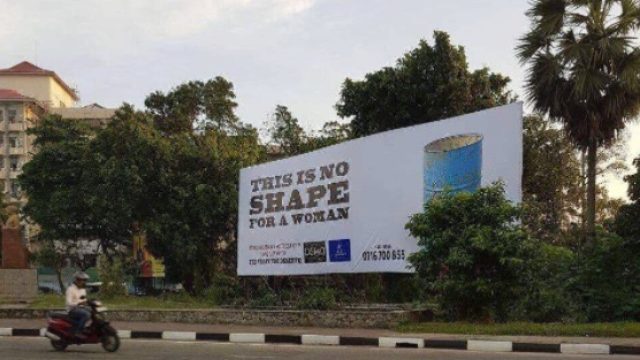 After a gym in Colombo, Sri Lanka, put up a billboard featuring a body-shaming message, outrage — then action — soon followed. The body-shaming billboard displayed a big rusty barrel next to the text: "This is no shape for a woman." Um, what?
It wasn't long before social media caught on to the offensive and clearly sexist tagline. Many in the Twitterverse posted photos of the billboard, along with the hashtag #BoycottOsmo, citing the name of the gym in question and calling for its immediate boycott.
According to BBC News, the gym wasn't quick to respond at first. A post featuring images of the body-shaming message remained pinned to the top of its Facebook page.
Frustrated by the lack of action, a group of Sri Lankan women took matters into their own hands. First, they called Osmo's marketing manager to complain. The manager responded that the image hadn't been "approved" by the company, but he didn't offer to take it down, either.
Next, the women contacted Harsha de Silva, the deputy minister of National Policies and Economic Affairs who oversees the Kotte constituency where the billboard was erected. He responded with a tweet: "I asked the Colombo MC Commissioner to remove this unapproved offensive hoarding."
Shortly after that, the Colombo Municipal Council covered up the billboard. Even better, the council permitted the women to display an anti-sexism notice in its place for two days. The new sign read: "No more space for sexism" in Sri Lanka's three primary languages: Sinhala, Tamil, and English.
While we appreciate de Silva's response, it's definitely frustrating that it took a Twitter campaign to get the body-shaming billboard replaced.
Of course, not everyone was happy about the new anti-sexism banner, with some saying it set a "dangerous precedent" against free speech. A still-unknown person took down the banner after just one day.
According to BBC News, Osmo Fitness eventually responded with an official statement announcing the removal of the body-shaming billboard. The gym stated it didn't intend to "degrade, offend, insult, or undermine any person or women in general" and claimed it was responding to a recent World Health Organization report that found higher rates of diabetes and obesity among Sri Lankan women than men.
Marisa de Silva, one of the activists responsible for the billboard's removal, hopes advertisers learned a valuable lesson. "This set off a chain reaction which I hope might make the ad industry at least think twice before subscribing to sexist advertising in the future," she said.
We couldn't be prouder of these Sri Lankan women for taking a stand against body-shaming. May we all follow their example!