These 7 body-positive yogis are making yoga a much more inclusive practice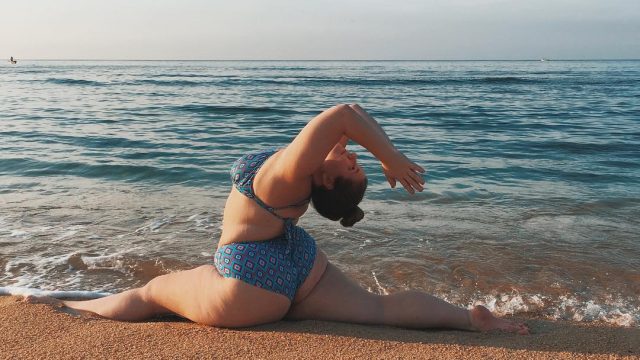 Since 2012, the number of people who practice yoga in America has increased by over 50 percent. A study conducted by Yoga Journal and Yoga Alliance found that there are almost 37 million yogis in the U.S., and these devoted practitioners spend more than $16 billion a year on yoga-related products. It's a meditative, healing practice that isn't losing its popularity anytime soon. However, just because it's growing rapidly doesn't mean there's a lot of diversity.
When you look at the most popular yoga personalities on Instagram and other social media platforms, you see a whole lot of people who pretty much look the same: thin, white, and lean. People like Rachel Brathen (also known as Yoga Girl), Kerri Verna, and Caitlin Turner have amazing, jaw-dropping profiles, but they don't tell the whole story of the yoga world. There are a whole lot of other bodies that do yoga — and they deserve just as much attention. This list is dedicated to the yogis out there who teach yoga just as much as they teach self-acceptance, because there's no such thing as one kind of a "yoga body."
1. Jessamyn Stanley (@mynameisjessamyn)
This girl is hella inspiring. Jessamyn is a yoga teacher, body-positive activist, and writer from Durham, NC who has over 250,000 followers on Instagram. Our favorite part about her is how outspoken and full of life she is. Jessamyn will make you laugh just as quickly as she'll inspire you to roll out a mat and do some yoga. Her Insta account shows you all the ways you can modify postures to fit your body — not the other way around. It's also just amazing to see all the advanced postures she can do.
This year, Jessamyn won the Shorty Award for the Healthy Living category. She motivates people of all shapes and sizes to move their body in whatever way they love most. She's completely redefined what it means to have a "yoga body," and she doesn't pay any attention to what the trolls have to say.
2. Valerie Sagun (@biggalyoga)
Valerie shows us on her Instagram account that yoga is for every body, and that flexibility isn't reserved for the small bodies we're used to seeing on the cover of fitness and yoga magazines. She shows you how to use props like straps and blocks to get deeper into postures. Also, her legging game is strong. Plus, the smile on her face is so contagious that you'll want nothing more than to join in on the bendy fun.
3. Brendon Payne (@sequellife_bp)
Based in Orlando, Brendon is a yoga teacher who has over 6,000 inspiring Instagram posts to scroll through. He shatters the myth that big, strong guys can't be flexible. You can see him doing yoga in all sorts of lovely spots — the beach, out in nature, or in his very own backyard.
4. Amber Karnes (@bodypositiveyoga)
Her profile picture on her Instagram is of her wearing a T-shirt that says, "My body is not a problem to be solved." Amen. Amber is a body-positive activist who shares pictures of her home practice on the regular, and she also faithfully posts pictures of herself that prove how much she's at ease in her own skin. Also, she and her husband are too cute together.
5. Kathryn Budig (@kathrynbudig)
She's an internationally renowned yoga teacher who has written two books: Aim True and The Women's Health Big Book Of Yoga. Kathryn also teaches regularly on the on-the-go yoga and meditation app YogaGlo. Her encouragement of self-love and self-acceptance is unwavering, and she reminds us all the time on her Instagram posts that the aesthetics of yoga are so not what the practice is all about. All around, she's inspiring AF. You'll love her bright sense of humor — and her unparalleled love for puppies.
6. Annie Carlin (@supportiveyoga)
Annie has been teaching yoga for over 13 years, and she's got the goods to prove it. She's super flexible and really knowledgable about the asana practice, so you can learn a lot from following her profile, too.
7. Dana Falsetti (@nolatrees)
https://www.instagram.com/p/BODQCeLlw2h
You can practice yoga with Dana at any of her workshops around the country, and you can also keep up with her teaching journey and practice on Instagram. She's bendy, smiley, and has great taste in vintage-y bathing suits. If you can't make it to any of her classes in-person, you can always practice with her online. She's got a knack at inspiring you to explore new depths of your body, all the while encouraging you to embrace the figure you've got at this very moment.