This body-positive Instagrammer makes a great point about body hair on social media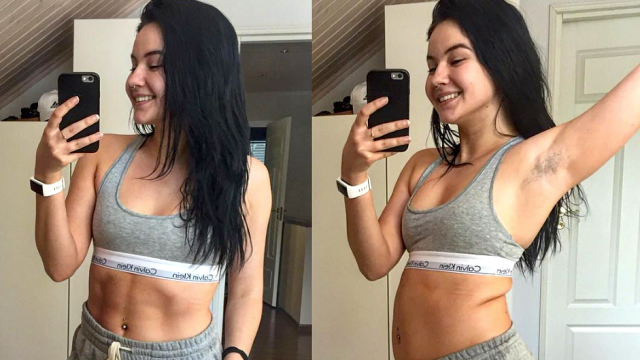 Sara Puhto is the queen of showing how just changing the way you stand can change the shape of your body. Now this body-positive Instagrammer has also taken on the subject of female body hair. Although she admits she used to edit out her armpit hair in some photos because she was worried about Instagram trolls, Puhto used her March 9th post to embrace her body hair.
While this photo comparison looked like one of her classic saggysara side-by-side photos, Puhto also unveiled some armpit hair, explaining:
"I just wanted to show that the photo on the right its just me, being unapologetically and naturally me! These photos were taken a while back when I was in Finland in Feb, on the right I'm relaxing my tummy and I hadn't shaved my pits because it was winter, so what's the point of shaving cause nobody would see my armpit hair anyway? 😬 And on the left is me flexing and covering my armpit hair, pretending it didn't exist 😂"
She continued:
"I'm guilty of editing out armpit hair in old photos or not posting certain photos because my armpit hair or other body hair is showing in them! Why did I edit them out? Because I didn't want people to comment something like ew she didn't shave lol, gross. But you know what? Fuck it, I don't shave majority of the time, I usually just wear jeans or shirts that cover my armpit hair because most of the time I'm too lazy to shave and I have freakishly sensitive skin, so I get rashes and stuff whenever I do wax or shave."
While you don't need to provide any reason why you may or may not shave your body hair as a female, Puhto's point about sensitive skin is an important one. Because you shouldn't have to hurt your body just because societal norms dictate women should shave their bodies.
Puhto also explained that she was speaking out about this because fitness queen — Instagrammer @gracefituk — was getting hate for having leg hair in a photo.
https://www.instagram.com/p/BRHIWnSgrL-
As Puhto so succinctly stated:
"Who has the right to tell another person to shave? ... It's 2017. NOBODY NEEDS TO SHAVE THEIR BODY HAIR IF THEY DONT WANT TO!!"
Her post on body hair is long, but so worth the read since it's all about how no one should put anyone else down for "natural, normal things." So, embrace saggysara's message and live the life that makes YOU most comfortable — with or without body hair.