These photos of plus-size Asian women smizing poolside are EVERYTHING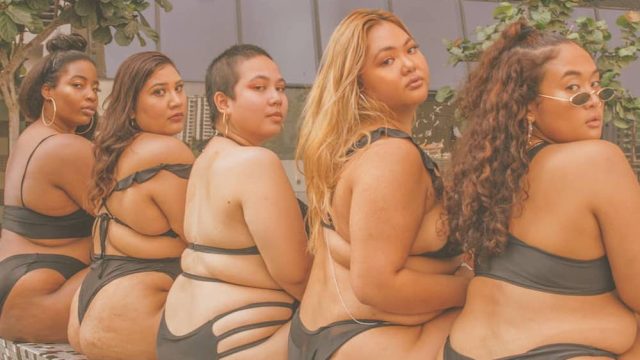 Being a plus-size Filipina woman, I rarely see myself represented in any of the ads for the limited number of places I can shop. The body positivity movement is definitely gaining traction, but perfectly airbrushed white women with hourglass figures still dominate the conversation. When brands actually make an effort to diversify their campaigns, Asian women are usually left out.
Imagine the volcanic burst of joy that erupted in my heart when I saw these beautiful images by Malaysian photographer Catherhea "Cat" Teoh. The iconic shoot features Southeast Asian models in varying hues, and one model who is Afro-European. Tbh, my hair might never grow back because each strand has been SNATCHED FROM THE ROOT.
I reached out to Cat to see how the epic pool party of my dreams came together. First, Cat finds her subjects via deep Instagram dives. She communicates with them to make sure each model's vibes and intentions align with her vision. "It's more than sitting pretty," Cat says. "You gotta bring attitude and work with what [you've] got."
Each of these models is serving, killing every single look with a direct "try to fuck with me" gaze into the lens. While Cat's original intention was to disrupt everyone's feed with a heavy dose of Big Slaysian Energy, photographing these diverse groups of women became a more intimate project. "It started as me wanting to piss off fatphobic folks," she explains. "But now, more than ever, I just want big girls to be able to look at themselves with love. Because sometimes you just want to feel enough, in however your body looks right now."
Even though celebrities like Sandra Oh, Constance Wu, and Mindy Kaling have graced our screens and showed us diverse Asian beauty, colorism is still a devastating issue that excludes dark-skinned Asians from representation. According to the World Health Organization, 40% of women surveyed in China, Malaysia, The Philippines, and Korea reported that they use skin whitening creams.
When I asked Cat to talk about colorism within Asian communities, she summed it up in one word: "Heartbreaking." She adds, "Dark-skinned women are still constantly facing rejection and persecution simply because of their skin tone."
Seeing Southeast Asian women in a diverse range of skin tones and body shapes is just…*chefs kiss.* Words can't quite explain the feeling of being represented in an intentionally badass way. These images show love for plus-size Southeast Asian bodies, not in spite of their looks, but because of their looks.
Finding Cat's images of badass brown babes chilling and striking carefree poses at the pool has definitely been the highlight of my 2019. I sincerely hope that fashion brands are paying attention and that they throw some well-deserved coin in the pockets of Asian women who are making groundbreaking moves in this industry. The joy I felt upon finding these photos proves that there's an existing group of women who still ache to be seen.