Meet "Jennifer," the new streetwear brand made for women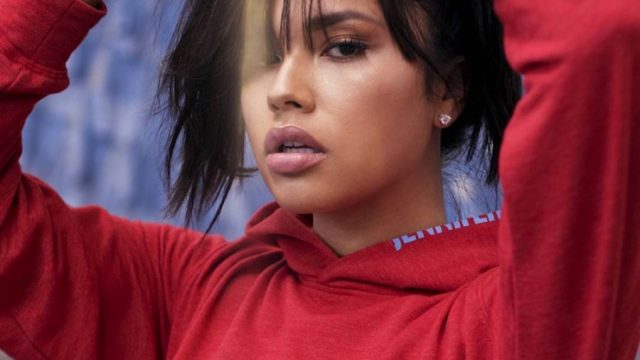 While women make up a substantial amount of the streetwear audience (and have contributed considerably to the culture), we aren't often represented by the brands we love. Oh, and can we just have a moment for all the menswear brands who hyped up their womenswear lines then hit us with a bunch of booty shorts and crop tops?
Yeah, no. Bobby Kim of The Hundreds (aka Bobby Hundreds) has something for women who know the power of a perfect hoodie. His newest project, Jennifer, isn't just menswear hosed down with pink, it's actually created for women's bodies. Think oversized tees ($55) with cropped hems (still baggy, just not in a nightgown sort of way) and a tailored-for-women Girlfriend hoodie ($140) that started it all.
https://www.instagram.com/p/BVxjD1WB0o4
On the website's bio, Bobby Hundreds explains the inspiration behind the new line.
"How come it's okay — trendy, even — for girls to covet their guy's clothes, but not the other way around? Isn't it time for a women's label that men beg for?"
https://www.instagram.com/p/BVVk2X1BXmF
The newest release from Jennifer is a pair of Netflix binge-friendly "Weekend Shorts," ($105). Whether cuffed or uncuffed, they're absolute perfection. (Sincere apologies to denim cutoffs, it was nice knowin' ya.)
https://www.instagram.com/p/BUPfM_5B3t9
Hundreds noted on Jennifer's site,
"For the first time, I was interested in making a statement in women's apparel. We began post-election with our signature "Girlfriend Hoodie, a response to a boyfriend's jean. This oversized sweatshirt can be worn by a guy but is tailored for a woman. Next, we introduced our custom T-shirt. It's boxy, uniquely 14 single, feels like your favorite vintage '80s tee while being brand new at the same time."
https://www.instagram.com/p/BVpjoNZBaKb
Everything from Jennifer is designed in Los Angeles and made in limited quantities. You can shop the entire line over at Jenniferusa.com.