Bobby Berk on singing karaoke with Harry Styles and the challenges of Queer Eye: We're in Japan!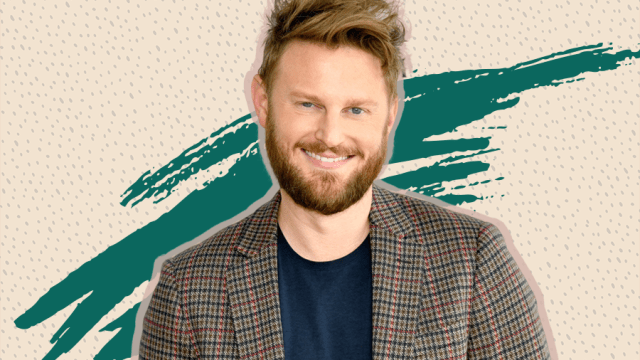 Today marks the 5th season of Queer Eye, but to Bobby Berk, it felt like the first. The four-episode installment of Queer Eye: We're in Japan! hit Netflix on November 1st—and interior designer Berk says it felt like a brand new start for the Fab Five.
Any Queer Eye fan has seen the drastic transformations Berk has made on people's homes—turning a bleak, cluttered mess into a sleek, stunning space—and probably has wished he could work the same magic on their home. Good news is, now he can. With his most recent partnership, Berk says people can feel like he actually did design their space for them. Berk collaborated with A.R.T Furniture to create a collection ranging from bedroom, dining, and living room pieces, which are available at Value City Furniture and American Signature Furniture stores, so you can feel like the Queer Eye designer himself styled your living room—at an affordable price.
Berk chatted with us about everything from his recent partnership to the newest Queer Eye heroes to his favorite Japanese food to singing karaoke with Harry Styles. Read our conversation with him below.
HelloGiggles: So, Queer Eye: We're In Japan! just came out on Netflix—I'm so excited to watch! While you were designing these heroes' spaces, were you influenced by Japanese culture at all?
Bobby Berk: If you mean the 150-square-foot apartment influence, then yes. The spaces were very, very small. Most of the time in Japanese apartments, you can't hang things on the wall, you can't put wallpaper up, you can't paint the walls, you can't do anything to the floors, so we had to get really creative—like, building furniture within the apartment. [For example,] we created lofts without touching the walls.
We had to be very creative, but I don't know if I'd say the Japanese culture influenced it. I designed for the hero just like we do in every episode. One of the heroes loved the movie The Grand Budapest Hotel, so I designed her space kind of around that. Another hero shared a 175-square-foot apartment with his wife, and there was just no space—you'll see, it was awful. So I had to create different living areas in that small space. I didn't get to worry as much about, "Oh, what design aesthetic am I going to do?" It was more about "How am I going to make these really small spaces function?"
HG: What makes this season a special one for the Fab Five?
BB: I think it kind of felt like the beginning to us again. When it comes to Kansas City, Atlanta, and Philadelphia, we have our formula now. [During] Seasons 1 and 2 we didn't know what we were doing—we had no idea what the show was going to be or how it was going to be received. Now, I know what I need to do when I get in there.
Not that we're on autopilot, but we kind of are a little bit. We know exactly how we need things to flow for the show to work properly, but in Japan, we had no idea. There was a huge language barrier and cultural barrier, so just like in Seasons 1 and 2, we were like, "Is this going to work? We don't know." We kind of had that same feeling in Japan, so it was no autopilot at all—everything was new and fresh. To the viewer, it might just be business as usual, but to us behind the scenes, it felt like the first day again.
HG: Which of the Fab Five embraced the Japanese culture the most?
BB: The least would be Karamo. He still ate at KFC and McDonald's every day. I've actually been to Japan many times—I love it. I ended up staying a few weeks after and traveling around the country. I think all of us but Karamo [embraced it].
HG: Since you didn't eat at KFC or McDonald's like Karamo, what was the best thing you ate in Japan?
BB: Katsudon is my favorite—the breaded cutlet, rice, and brown sauce. I eat that all the time.
HG: Do you have any funny travel stories from your time in Japan?
BB: We'd been filming [Queer Eye] very late, and we were all starving, so Antoni, Tan, Jonathan, and I all got on our phones, brought up Uber Eats, and ordered our food. Karamo was like, "Huh? You can just order food on an app?" So I set it up for him and taught him how to use it, and he's like, "Oh my god, this is crazy." Then twenty minutes later he's like, "Wait a second—are you telling me that even when I get home in L.A., I can do this?" And we're just like, "Uh…yeah!" Karamo just looks young.
HG: What was the Queer Eye fanbase like in Japan?
BB: For the most part, people didn't know who we were in Japan. I had one kind-of stalker—seriously, it got crazy. We worked with Kiko Mizuhara and Naomi Watanabe—Naomi is the most famous person in Japan and Kiko is the second most famous person in Japan. To walk down the street with them and to see people literally fall down and start crying and screaming…you're just like, "Oh my god." When Japanese fans are fans [of someone], they are fans. So it's going to be interesting to see the difference when we go back after the show comes out. Since Naomi and Kiko are on it, I know Japan is really going to pay attention to [the show].
When I was over there, I went out singing karaoke with Harry Styles and hung out with him a bit, and even he can walk down the street and no one really notices him. He can just put on a beanie and go.
HG: What was singing karaoke with Harry Styles like?
BB: It was great. He happened to be in Tokyo at the time [when we were there filming], and there was a rumor going around that he and Kiko were dating—even though they'd never met before. So, she DM'd him and was like, "If we're supposedly dating, we might as well be friends." So he came over to where we were hanging out, and we went out to do karaoke. We sang "Bohemian Rhapsody" and he sang a couple of Whitney [Houston] songs. There are videos on YouTube.
HG: So I heard you're a Virgo. Do you identify with the traits Virgos are known for?
BB: A lot of them, yeah. I definitely like things a certain way, I'm very organized and meticulous. I'm usually the one taking care of everything.
HG: You're super busy balancing multiple projects at once. How do you live in the present moment and enjoy day-to-day life?
BB: Janet [my assistant]. I have a great assistant. [I try] keeping myself grounded and try to bring my husband with me as much as possible. [I also spend time with] all of my friends I've had for the last 20 years. I'm rarely home anymore. I think in the next two months, I'm home for 48 hours. So being grounded isn't really an option anymore, but I try as hard as I can.
HG: What made you want to design a collection with Value City Furniture?
BB: I think when people imagined me designing a collection, they thought it would be super high-end, but it didn't make sense [for me] because I go out there and preach about how changing your home can help you in so many ways—it can change your mental health, it can make your whole life feel better. So to go out there and make a super unattainable line just didn't make sense. I still wanted it to look good and be of great quality, but be priced so that anyone who wanted it could afford to. Anyone who wanted to feel like I designed their home for them could [go out and purchase the collection]. So that's why the partnership with VCF was so great because they believe in the same [idea]—bringing design to the masses.
People are always like, "I wish you could design my house, will you design my house?" Now, I kind of can. You can have pieces that I designed in your home, but it's way cheaper than having me come and do it.
You can shop the Bobby Berk Collection, created in partnership with A.R.T. Furniture, at VCF.com/BobbyBerk or ASFurniture.com/BobbyBerk, or in ASF and VCF stores nationwide.