Bobby Berk Says He's a "Prime Example" That It Gets Better For LGBTQ Youth
The pandemic has kept many queer teens in unsafe home situations or put them on the streets, and the 'Queer Eye' star urges them to hold out hope.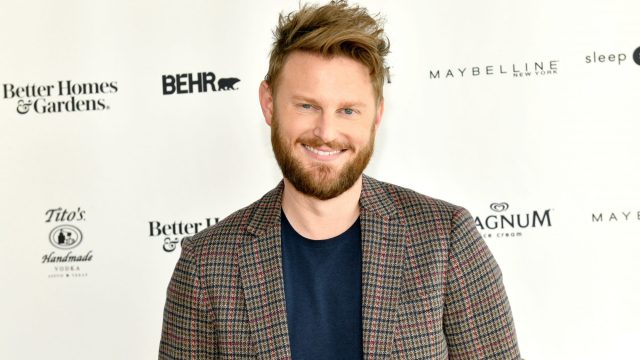 At age 15, Bobby Berk left his adopted family's home and started living out of his car. As a young gay man ready to come out, the future Queer Eye star knew that the small, conservative town of Mount Vernon, Missouri, where many regarded homosexuality as sin, wasn't a welcoming place for him. Now 38, the interior designer has turned his story around and found a new place to call home—Los Angeles, where he currently resides with his husband of 15 years, Dewey Do. And over the past few decades, Berk has made a career out of helping other people, including those in the LGBTQ community, turn their homes into what they should be: safe spaces that are declarations, not suppressions, of self.
According to The Trevor Project, LGBTQ youth make up 40% of the homeless youth population, due to factors like family rejection, discrimination, and criminalization. In recent months, the coronavirus (COVID-19) pandemic has caused many schools, youth programs, community centers, and shelters to close, leaving queer teens even more vulnerable. Speaking to HelloGiggles while promoting his new campaign with Oui by Yoplait, Berk says he urges LGBTQ youth in difficult situations right now to keep fighting. "Just keep believing in yourself and loving yourself and knowing that you can do better and you can do more," he says over a Zoom call last week. "It will happen for you. Don't give up."
Berk wants his own story to be a beacon of hope for others, saying:
"When you're young, especially when you're in a home that is not accepting of you and you're in a town that's not accepting of you, or you're in a situation like homelessness or living in your car, you feel like it's never going to get better. It does. And I'm a prime example of that."
This message of hope is largely the foundation for the Fab Five's work on Netflix's Queer Eye. The show isn't simply about turning drab to fab, but also about pushing the heroes (aka the series' subjects) to believe in, and fight for, themselves. As the show's resident designer, decorator, and sometimes, entire home renovator, Berk revamps the heroes' homes or workplaces to create spaces for them that truly feel like their own. Over the seasons, he's helped a dad with hoarding tendencies declutter his life, made a shooting victim feel comfortable in his home again, and even provided a cancer survivor with a welcoming community center at her church.
"To me, being able to be that person that creates that safe space for someone on Queer Eye has always been very humbling and so important to me, because it's really a way where I get to change their life for a long time," Berk says. "I don't take my job lightly at all because it's something that has a huge effect on people's lives—and if I don't do it right, it has a huge negative effect on their life."
For this reason, the design guru says it's important for him to "never design a space for TV, but really, truly design it for our heroes." And when he gets it right, the payoff is everything. "I love the feeling when our hero walks into a home and you can see in their eyes that they're like, 'This is me,'" Berk says.
The designer has formed lasting connections with several of the show's heroes, like Season 3's Jess Guilbeaux, a lesbian waitress from Lawrence, Kansas. Guilbeaux and Berk connected over their distinct similarities: they were both adopted by religious families and have sisters they were told were their cousins. "We instantly had this connection that to this day, is very strong," Berk says now, adding that they still talk "all the time."
"It's always been very surprising to me how quickly we can connect with people when we all have our walls down," he continues. "When we all listen to each other and everybody in the room knows that everyone is just there to love each other and help each other, the connection you can make with people very quickly is phenomenal."
For those who can't get a Queer Eye-sponsored home renovation or become buds with the Fab Five, don't worry—you can still take a page out of Berk's design book if you're looking spruce up your home. Berk says a little DIY can go a long way, especially for those on a budget. "A lot of it is personal touches—for example, crafting those things where you are not only adding great decor to your home, but you also feel proud of it because you made it," he explains.
Recently, Berk partnered with Oui by Yoplait's Limited-Edition Heritage Collection to create an easy, at-home craft idea perfect for those looking for new projects in quarantine. Using the brand's new glass yogurt pots with French-inspired designs, some rope, string, and succulents, Berk created a step-by-step tutorial for making hanging succulent planters; you can find all the instructions and materials here. He also shared a livestream tutorial via his Instagram, kicking off a four-part series that will demonstrate creative ways to reuse the glass jars (the three upcoming episodes will be led by other designers). "I'm always looking for ways to be more green, but at the same time, do it with something that I love," Berk says about his involvement in the collection.
Whether you're a big DIY-er or not, the star recommends doing whatever you can to make sure your home reflects your own interests and identity, not anyone else's. "Stuff you like in life is what you should put in your home, because that's what you're passionate about—it makes you tick," he says. And with a big smile, he points to the succulents and adds, "For me, it's plants!"