Blume is a new line of self-care products made specifically for pre-teen girls, and our younger selves are so happy
In recent years, a wave of period-positive brands, including LOLA and Thinx, have opened up important conversations about menstruation and gynecological health. Conversations like, what are we putting into our bodies? And why don't we have more menstrual hygiene options? Among those companies was Ellebox, a subscription service that launched in 2016 and sends 100% organic cotton tampons and pads to subscribers every month. Now, the women behind Ellebox are back with another innovation: Blume, a line of self-care products made specifically for pre-teen girls that aims to reshape the way girls experience (aka suffer through) puberty.
Founders Taran and Bunny Ghartrora, a pair of sisters from Canada, drew inspiration for both of their brands from their own upbringing. They noticed that periods and women's health were not openly discussed in their community, which led to shame, awkwardness, and social isolation for menstruating women. So they decided to fight back by launching Ellebox, leaving behind traditional careers in law and accounting to pursue a dream.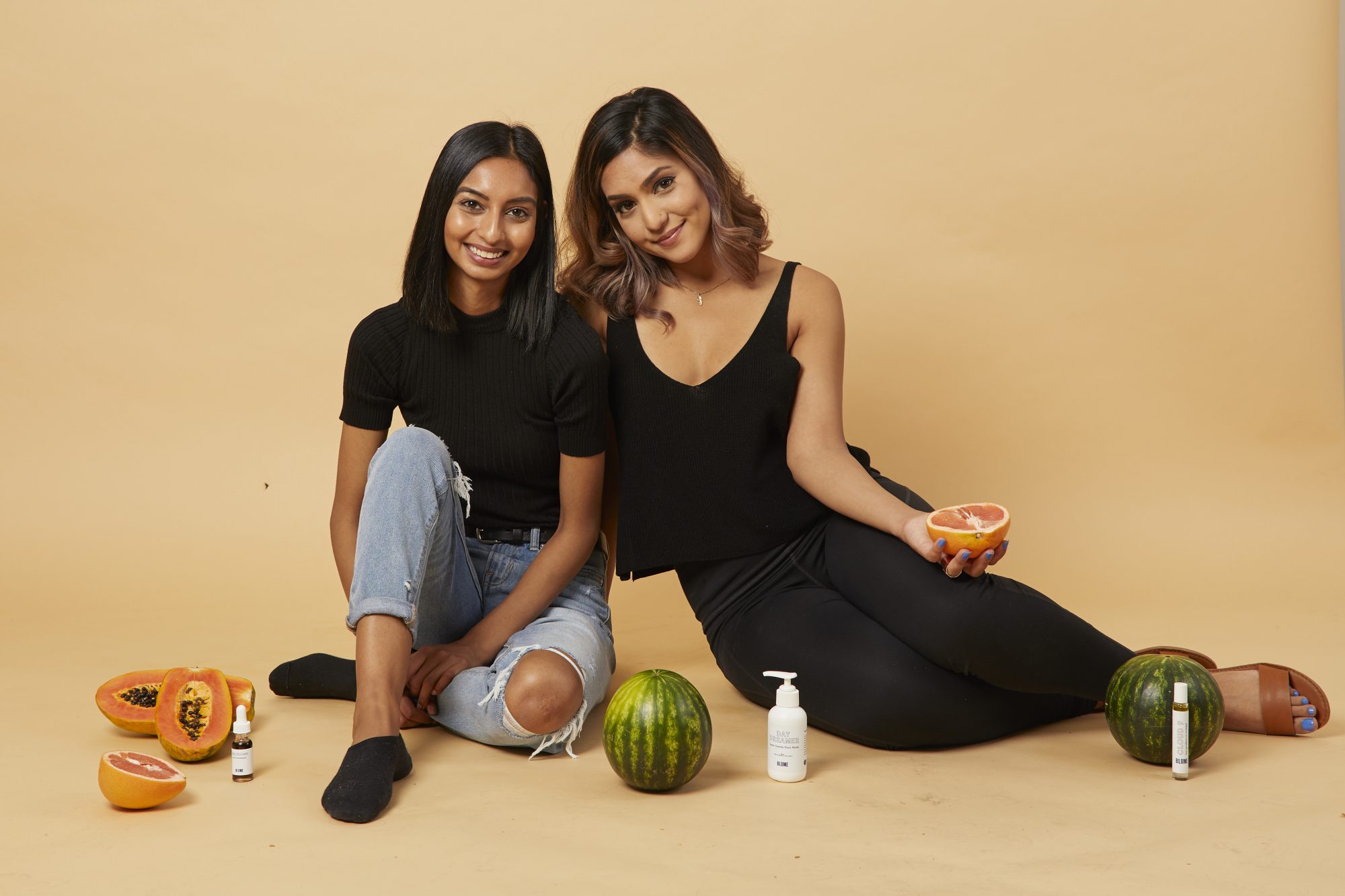 In the process of creating and managing Ellebox, Taran and Bunny spoke with thousands of women and discovered a common theme: parents were giving Ellebox to their daughters in hopes of normalizing menstruation for a new generation. Many of those millennial moms and older women still felt the effects of a poorly handled puberty, and wanted something better for the girls in their lives.
"Receiving Ellebox prompted their daughters to talk about her period with pride, to actually start looking forward to that time of the month, and to open up about her period with her mom, Taran explained to HelloGiggles.
Hearing this feedback sparked something in the sisters, and they realized they could do more to help women by getting to the root of these problems. Seeing that girls now get their periods younger than ever — some as young as 8, according to a study published by Environmental Health Perspectives — and only 24 states in the U.S. currently mandate sex education, Taran and Bunny decided to create something specifically for girls and younger women that would teach them to love and care for their bodies out in the open, and from an earlier age.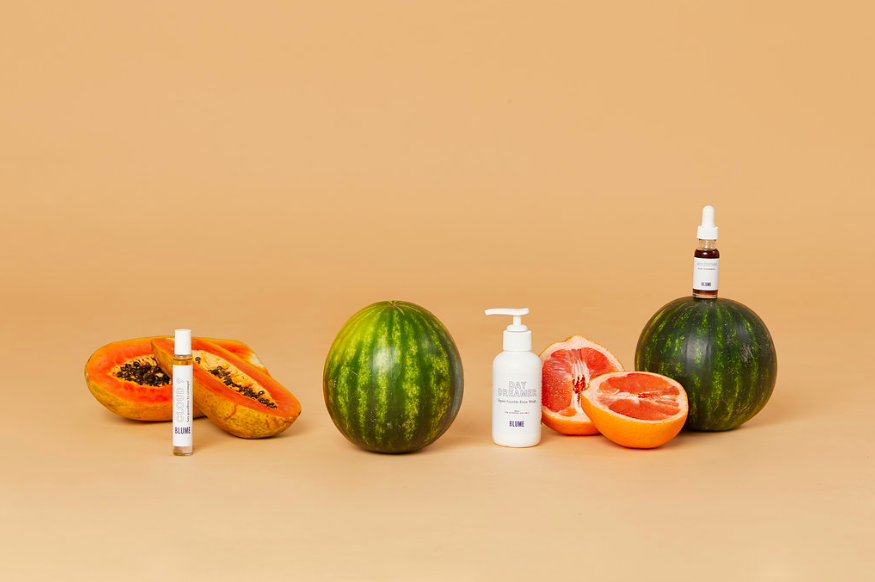 Launching today, June 19th, Blume is a cohesive line of self-care products curated with pubescent girls in mind. To create the perfect set of products, the brand crowdsourced feedback from Ellebox customers and tested a number of formulas on hundreds of girls and women. In the process, they found that no other brands were targeting this age group in this way — with a full range of products in chic packaging — and that many of the products on the market were made with poor ingredients.
Through the brand's research, they found that girls often go to extreme lengths to hide or solve their acne, using medicated products and heavy makeup. To solve this, the company's founders explain, Blume offers a face wash and blemish treatment for acne that are gentle, paraben-free, and effective.
Additionally, they found that many girls were using the same deodorant as their mothers, which was not created with them in mind. So Blume created an organic deodorant that's formulated specifically for girls' sensitive skin. The brand also offers a PMS-specific essential oil blend, which can be used to naturally combat period cramps and balance hormones.
"The solution to period cramps is usually Midol or Advil, but these medications are pretty strong for younger people who may greatly benefit from tackling cramps naturally," said Taran.
The founders rooted their products in data, surveying 1,000 young women over the age of 24 about the lasting impact of period and puberty shame. Sixty percent of those surveyed said their self-confidence "plummeted" around puberty, while 68% said their school didn't do a good job preparing them for that life-changing time. Additionally, 63% felt embarrassed when they first got their first period, while 64% missed out on social activities because they didn't know how to manage their periods.
Blume's survey is consistent with related research from the American Association of University Women (AAUW), which found that at age 9, a majority of girls are confident, assertive, and feel positive about themselves. Yet, with puberty, this drastically changes. According to AAUW, "Girls reported more negative body image and media influence scores than did boys in late childhood and early adolescence." While the study revealed that boys also lose some sense of self-worth, it's much less severe than what girls experience.
"This affects everything — academics, sports, future sexual encounters, overall confidence, your relationship with your body forever. The list goes on and on, said Taran.
These statistics underline how isolating this time of life can feel, and the need for more products and platforms that foster period positivity from a younger age. According to a press release, Blume aims to shine a light on how ubiquitous and powerful these issues are, and in turn create a welcoming community of "emboldened girls who own and celebrate what should be a positive, confidence-building experience."
In a society that tends to minimize women's health concerns and where a lot of misinformation circulates about women's reproductive health, Bunny and Taran envision Blume as a trusted and authentic resource. The sisters plan to create an educational resource called Blume University, which will provide medically informed content and information about common — yet under-treated — health issues. The resource will include a series of articles, videos, and interviews that focus on providing accurate answers to commonly asked questions about periods and puberty. For example, topics will include swimming on your period, yeast infections, and bacterial vaginosis.
To develop Blume University, the founders have partnered with a trained counselor, a sexual health administrator, and a director of women's health. They've also created a First Period Guide, which includes pertinent education, diagrams, and even mindfulness exercises for girls reaching menarche, and all of their products and programs are informed by the feedback they've received from tweens and parents every step of the way.
"Being comfortable with and proud of your body helps prevent against thinking that it's acceptable for it to be treated poorly — which happens to far too many women," said Taran. "The more we shame women's bodies, the less respect they'll demand for themselves, which is a very slippery slope. We want to be sure that confidence and self-respect start as early as possible. It's a lot easier to teach this from the get-go than to try and reverse harmful thoughts once they've set in."