This turquoise blue sparkling wine will have you dreaming of Mediterranean seas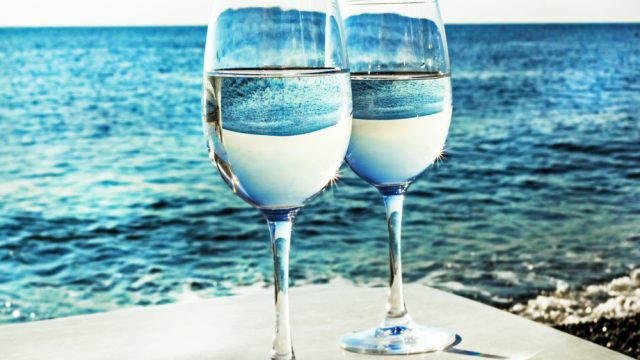 Today in "apparently it's officially a thing":  blue Prosecco!  But wait,  it's not just any shade of blue. We promise, no blah shades of navy here. Instead, this bubbly beauty is Mediterranean Sea blue. Created by Fratelli Saraceni, an Italian winery, Bluemond Blue Prosecco is taking America by storm. A sip of this lovely bubbly will transform any ordinary day into a wild seaside extravaganza.
Feast your eyeballs on this!
The blue liquid adds a beautiful pop of color to any 'ole room. We think this libation might have multi-faceted purposes. Drinking would be the obvious number one. Décor is a close second.
Check out how it stands out next to your favorite bookshelf and leather chair!
We're intrigued at how a bottle of Bluemond Blue Prosecco matches the bluest of skies.  Manhattan?  London?  Skyscrapers are no match next to this crisp blue miss. Check out how the bottle fares on the ledge of a balcony.
Stunning doesn't begin to describe it!
According to the Fratelli Saraceni website:
"Popping a bottle of Blumond® sends a direct signal to the brain that something special is about to happen."
Brain-inducing goodness? So, tell us, how do we get our hands on a bottle? For only $21.99 per bottle, you can order it directly from the Fratelli Saraceni website. We think it's a steal for a taste of true blue heaven. Shipping is free for any order that's $99 and up. Go ahead. Splurge.
You can repeat this experience over and over.
Lorenzo and Matteo Saraceni, two well known hoteliers and restaurateurs, founded Fratelli Saraceni. According to their website, their collection is made from grapes from vineyards all over Tuscany, the Chianti region and Veneto.  It has the ideal microclimate for aging and ripening grapes. Even sweeter, their first release of Tuscan wines was affectionately named after their father, Libero. They described the collection as "quality wines with fresh and fruity tones."
What's more, according to Refinery29, the sky blue beverage isn't just your average sparkling wine. Instead, it's a cocktail in a bottle, combining sparkling wine with other flavors like peach and blue curacao. Yum.
We don't know about you, but we can't wait to rush out and buy this summer sky drink.
(H/T Bustle)