The Best Blue Shampoos for Keeping Brunette Hair Glossy, Not Brassy
Two experts break down the best ways to use them and what to avoid.
Finding the best beauty products has never been easier thanks to Pia's Picks, our weekly curated list. As the Senior Beauty Editor at HelloGiggles, I test and examine the latest skincare, makeup, hair, and nail products so I can confidently recommend the best ones to you.
We've all heard of purple shampoos and the wonders they do for keeping blondes from going brassy. But if you've ever wondered if there's an equivalent for brunettes, you're in luck. Blue shampoos have entered the chat, and they're ideal for keeping your brunette highlights and all-over shade looking glossy and vibrant in between salon visits.
What is blue shampoo?
Essentially, they're color-depositing shampoos that work to color-correct brassy hair tones. "Tonal depositing shampoos are for neutralizing warmth in the hair," explains Stephanie Diaz, Master Colorist at LoveLane Salon in New Jersey. "These products are direct dyes, so they only stain the surface of the hair."
How does blue shampoo work?
With a similar formula to purple shampoo, but tweaked for brunettes, blue shampoo tones unwanted brassiness out of the hair—leaving it looking just like it did when you walked out of the salon. "A blue shampoo would neutralize orange or 'brassy' tones," explains Diaz, which is why blue-toned shampoos and conditioners are best for dark blonde and brunette hair.
Blue shampoo will specifically benefit brunettes who have lightened their hair and want to maintain their tone in-between color appointments, according to Garnier celebrity hair colorist Nikki Lee. Blue shampoo is a quick, at-home remedy that will save you extra trips to the salon.
What's the best way to use blue shampoo?
Unlike with a regular shampoo, where you mainly target your roots and scalp, make sure to lather through your entire head of hair, from root to ends. "It's important to note that if the lift or porosity is uneven, then the deposit will also be uneven," says Diaz.
If you're using a new blue shampoo for the first time, Lee recommends starting by applying it on damp hair for small periods and slowly increasing how much time you leave it on to prevent over-toning and getting just the right amount of color deposited. Start with one minute, then two minutes, etc. until you reach your desired tone. Once you've perfected your blue shampoo routine, continue to use only when you notice your hair needs some extra toning. Follow up with your normal conditioner to avoid dryness.
What are some mistakes people make with blue shampoo?
For starters, Diaz recommends waiting three weeks post-dyeing your hair before applying a toning shampoo. "These products open the cuticle of the hair slightly," she explains, so using them too soon after a dye job could alter the professional (or at-home!) color. Additionally, be careful not to leave it on your hair for too long to avoid over-toning. Overuse of blue shampoo can lead to dryness, so Diaz recommends incorporating the product into your hair care routine no more than once a week.
Best blue shampoos:
Best drugstore blue shampoo: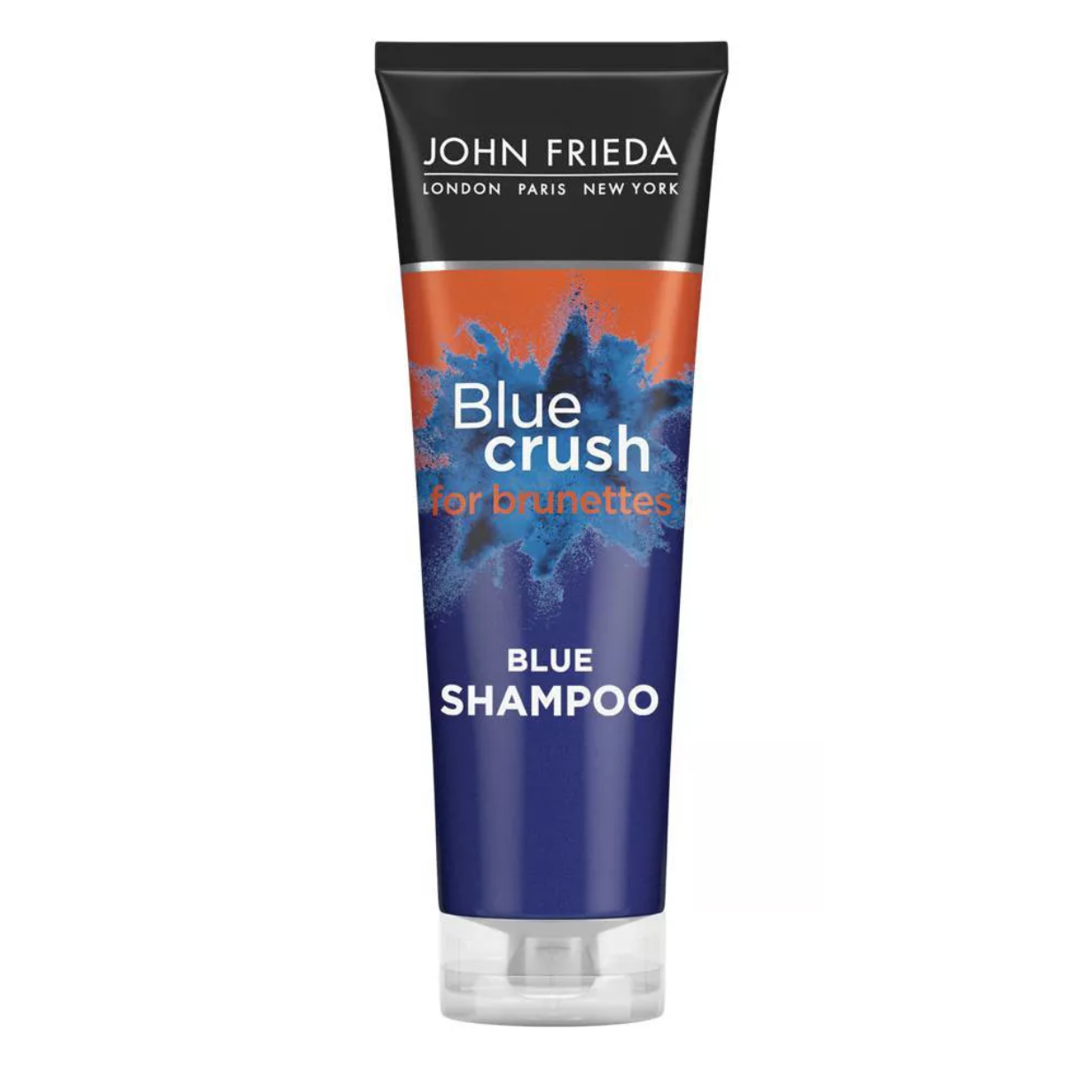 John Frieda Blue Crush for Brunettes Blue Shampoo
$11.99
Shop it
Ulta
Counter stubborn brassy color with this budget-friendly pick. It uses a proprietary blend with crushed blue pigments that keeps brunette hair looking fresh. Shampoo your hair as normal, or for more intense results, leave it on for up to three minutes before rinsing it out.
2. Best luxe blue shampoo:
Redken Color Extend Brownlights Blue Shampoo
Shop it
Amazon
This sulfate-free pick is a game-changer for people with very brassy hair. It uses vegetable proteins and citric acid to cleanse the hair without stripping it and has an impressive, intense blue pigment that knocks out orange and red-looking tones to brighten up your brown shades.
3. Best blue shampoo for curly hair: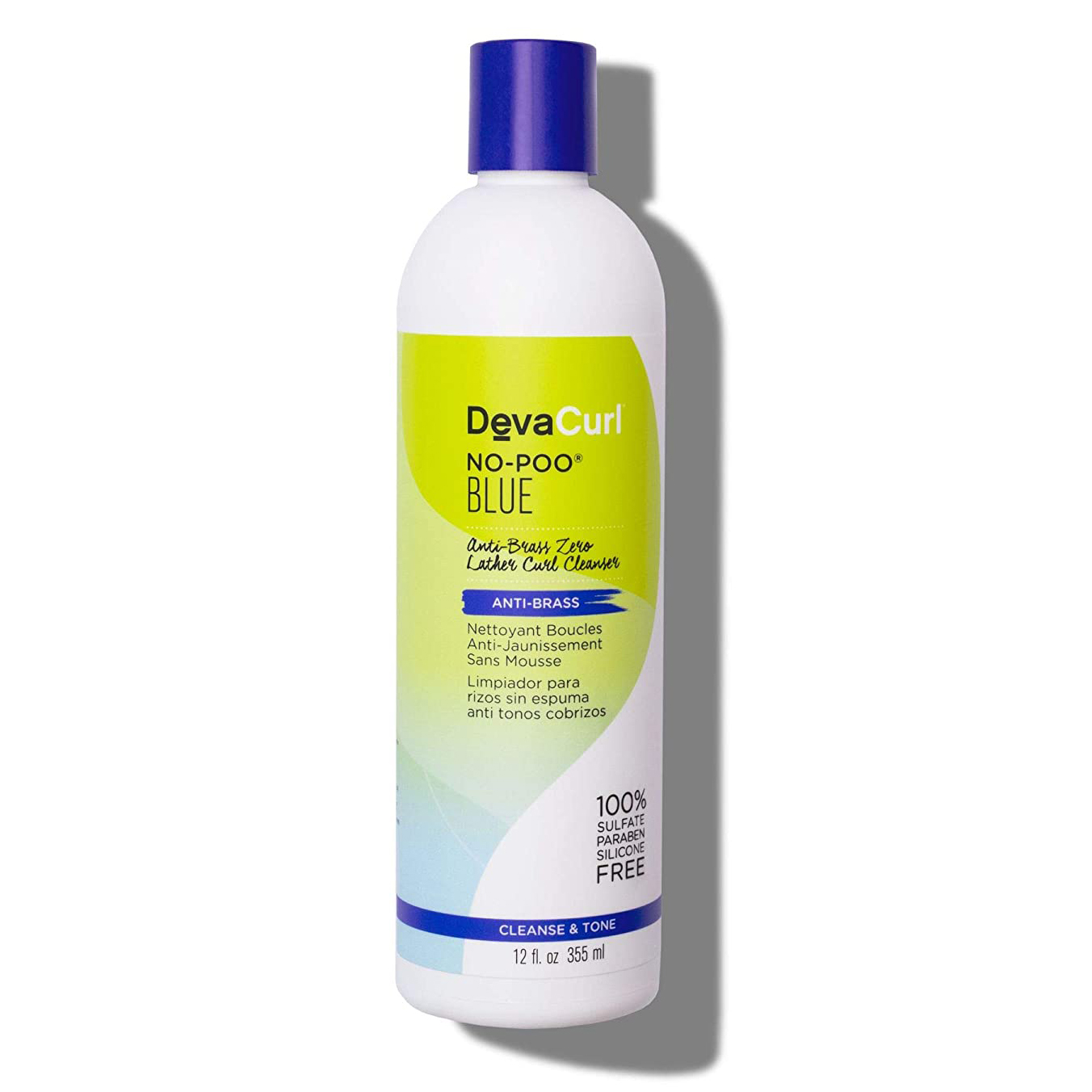 DevaCurl No-Poo Blue Anti-Brass Zero Lather Curl Cleanser
$26
Shop it
Dermstore
Calling all curly gals! We know that your hair needs extra TLC, which is why you need a blue shampoo to maintain your curl pattern and hydrate each strand. This product is sulfate and silicone-free and promises to keep every kink and curl toned, bouncy, and healthy.
4. Best customizable blue shampoo: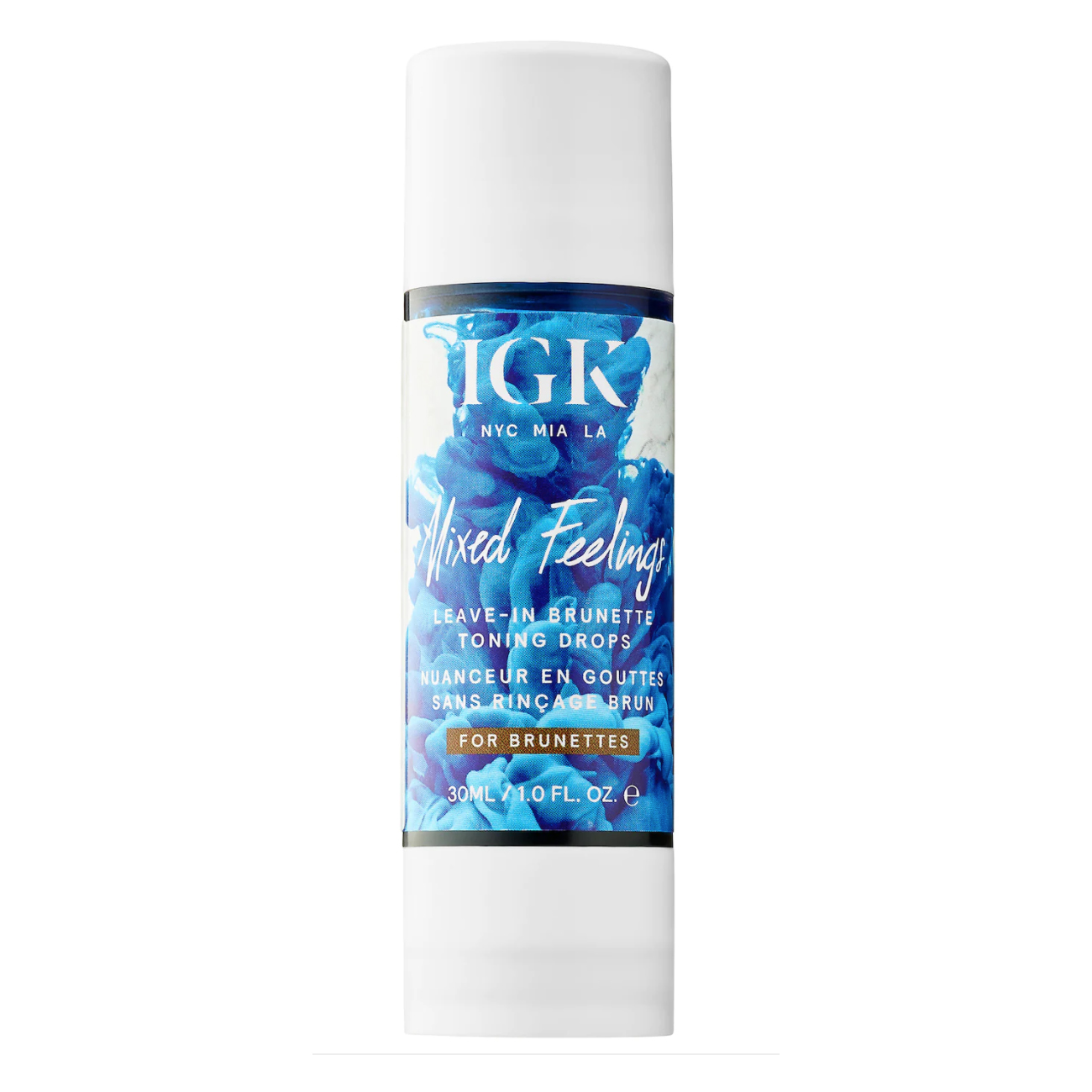 IGK Mixed Feelings Leave-In Brunette Toning Drops
$29
Shop it
Sephora
If you love your shampoo and don't want to switch it up, you don't have to. Instead, you can add a few drops of this blue formula into your go-to product and get similar results to a full-on blue shampoo. This feature makes it possible to customize how much you want to tone your hair—you hold the power.
5. Best blue shampoo for cool-toned brunettes: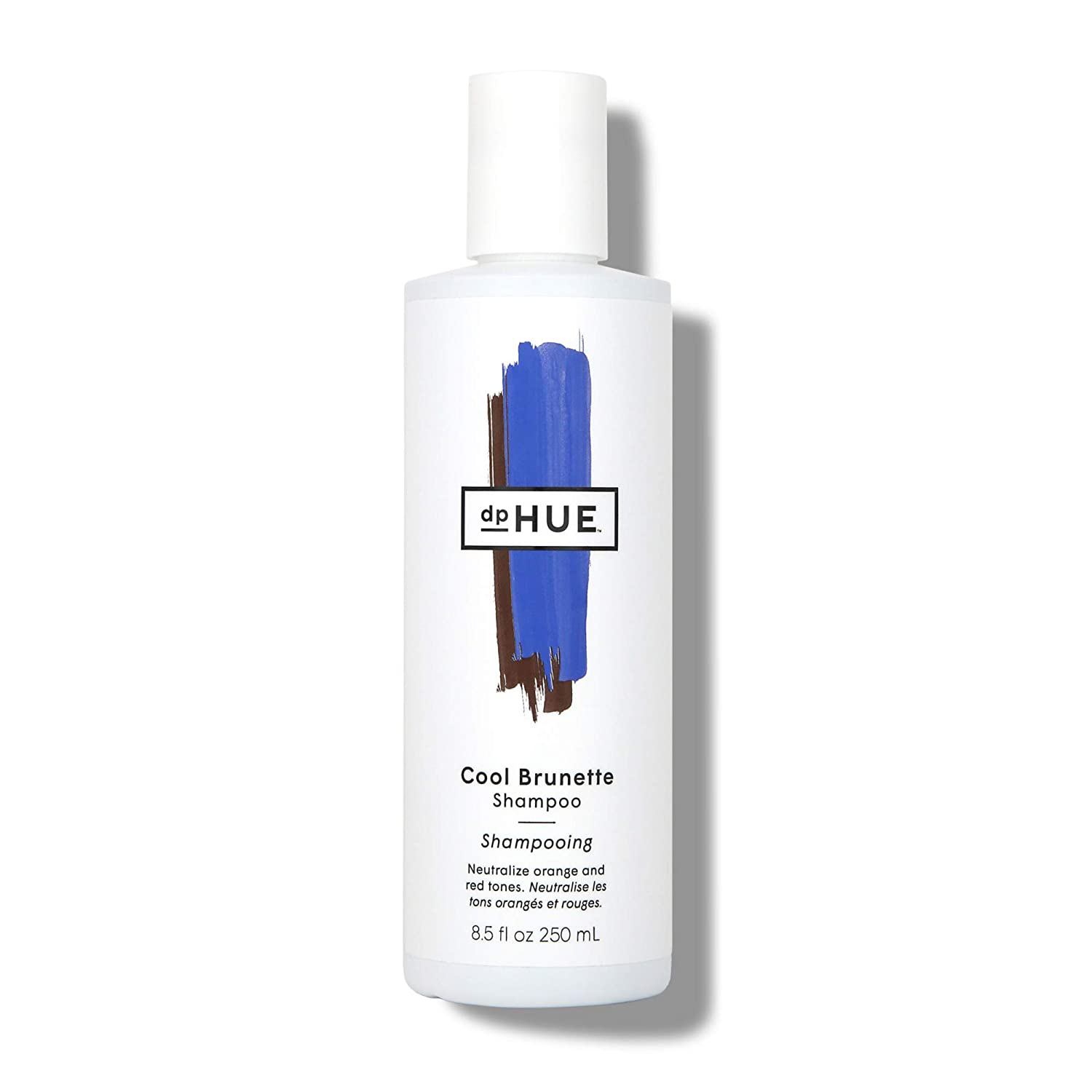 dpHue Cool Brunette Shampoo
$26
Shop it
Ulta
dpHUE's blue shampoo is super-clean, as it's free of sulfates, gluten, and silicone, making for a gentle cleansing shampoo that won't strip or dull color. It's also formulated for cool-toned, slightly ashy brunettes, so if that sounds like you, this is your pick.
6. Best blue shampoo for warm-toned brunettes: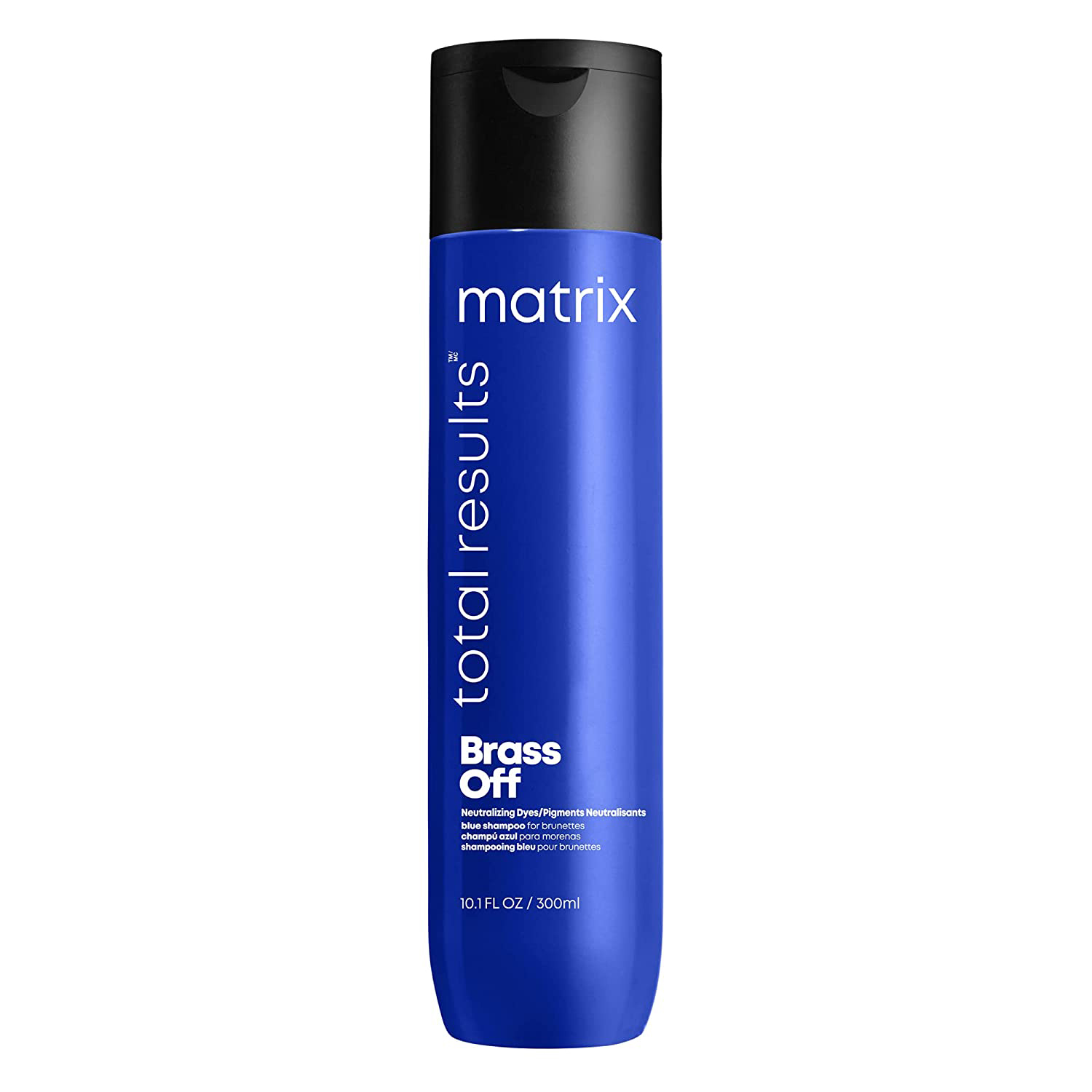 Matrix Total Results Brass Off Shampoo
Shop it
Amazon
Knock out unwanted brassy tones and bring back your golden brown shade with this toning shampoo that uses blue-violet pigments to bring lightened caramel shades back to life. Because of its unique pigment blend, it's ideal for correcting yellow and orangey tones.
7. Best plant-based blue shampoo:
Aveda Blue Malva Color Shampoo
$57
Shop it
Nordstrom
Although this one is on the pricier end, it's much bigger than other blue shampoo bottles, and it contains tons of plant-based ingredients like organic ylang ylang, lemon, and eucalyptus, creating a pleasant aroma.