Blue Ivy telling her grandma Tina Knowles-Lawson to stop taking Instagram videos at the ballet is gold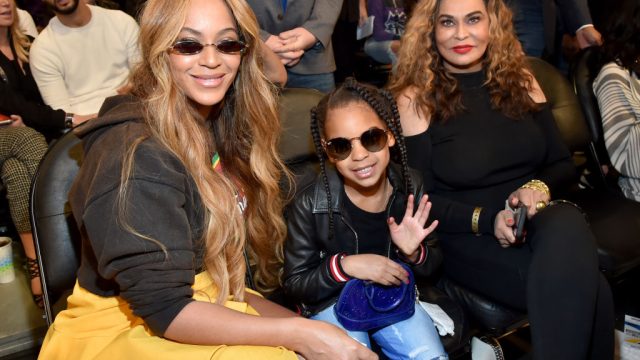 If you take Blue Ivy Carter to the ballet, you better follow the house's "no phones" policy. Tina Knowles-Lawson took her granddaughter Blue to see a ballet performance in Paris, France when Knowles-Lawson did what we all do when we go somewhere cool — she took an Instagram video. Knowles-Lawson whipped out her phone to film the beautiful, historic theater when Blue cut in with the warning: "You're not supposed to take videos, Grandma." Awwww.
"We're in Paris, France, and I'm at the most beautiful theater I've ever seen in my life about to look at the ballet," Knowles-Lawson says in the video. That's when 6-year-old Blue has to lay down the law: "You're not supposed to take videos, Grandma. You're not supposed to."
First of all, Blue has the cutest little voice. The comment section is blowing up over the sound of her quiet scolding. Second of all, Tina was very unbothered by Blue's warning to stop filming and continued to grab footage of the stately theater while raving about its architecture.
Awww. Little Blue just wants to follow the rules.
We're reminded of that video from the 2018 Grammys where Blue is seen hushing Jay-Z and Beyoncé for clapping during the awards ceremony. Camila Cabello was onstage at this moment, giving a speech about Dreamers — which is a very important thing to clap for — but Blue didn't quite understand the seriousness of the moment and just wasn't feeling it.
That sass, though! Listen, Blue probably just saw a guy with a headset cueing the audience to wrap up the applause. What can we say? Blue follows directions like a champ.