Blue Ivy sings on Beyoncé's "Mi Gente" remix, because she's a superstar in the making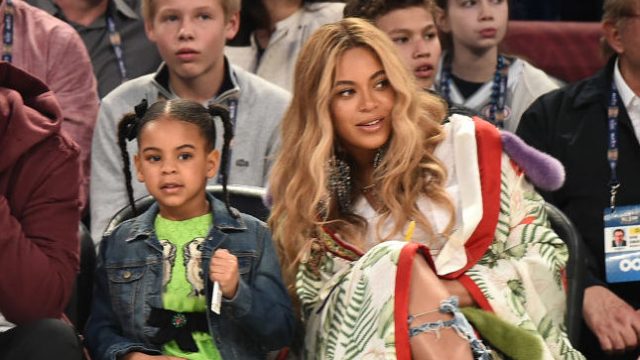 Blue Ivy is already a music legend. And now, Blue Ivy has a scene-stealing line in Beyoncé's "Mi Gente" remix. Because of course she does! She's only five years old but she's already been featured on multiple songs by her famous parents, Beyoncé and Jay Z.
If you missed the moment, don't worry. Just take a closer listen and wait for one of the times when Beyoncé asks, "Azul, are you with me?" And then Blue Ivy makes her appearance with a sweet answer, "Oh yes I am!" ("Azul" is "Blue" in Spanish, btw.)
Take a listen below.
https://www.youtube.com/watch?v=APHgDFRpCi0?feature=oembed
Blue Ivy freestyled with her dad on his latest album, in a song appropriately called "Blue's Freestyle/We Family."
https://www.youtube.com/watch?v=ZE-Kw64h5fE?feature=oembed
She's also credited on her mom's song about her, "Blue."
https://www.youtube.com/watch?v=gSsMhQv6KZ8?feature=oembed
And she made her musical debut at just a few days old on her dad's song "Glory."
https://www.youtube.com/watch?v=vyoNdZxy5VE?feature=oembed
DJ Khaled may be making his baby Asahd into the youngest mogul ever, but Blue Ivy's more focused on becoming a features legend.
"Mi Gente" was already a huge hit before Beyoncé joined in. The song by J Balvin and Willy William has been on the top of the charts. When the idea of a remix floated around, they had an audacious wish list of who could join them on the track. Beyoncé was, of course, their number one hope. But they were shocked when she came on board. According to Billboard, "when asked, she said yes — motivated in part, they learned later, by her daughter Blue (Azul in Spanish) and her love of the song."
So not only does Blue have excellent taste, she also gets to be on the remix of one of her favorite songs!
Not many five-year-olds have that power. But don't worry, she's using her gifts responsibly. Blue's already doing good in the world. Beyoncé has stated that all of her proceeds from the song will go to hurricane relief efforts.
Now, if that didn't already have you ready to buy it, there's more. Beyoncé sings and raps in Spanish on this record and it is, as always, flawless. And it's got the Blue Ivy seal of approval!