Blue Ivy helped Beyoncé rehearse for the Super Bowl and the cuteness is overwhelming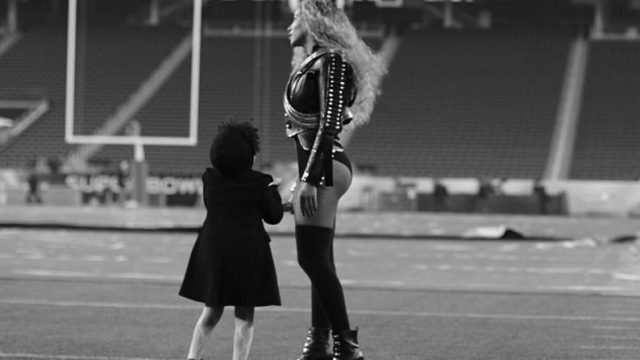 ICYMI, Beyoncé had an insanely fabulous evening yesterday. Not only did she totally slay at the halftime show, but she also announced a tour, because of COURSE Beyoncé would announce a tour during one of the biggest American events of the year. Oh, and this all happened a day after she announced her latest song: Formation. (AHHHHHH.) However, even goddesses need a little bit of support, and Bey's got lots of support in a little package: Her daughter, Blue Ivy.
Beyoncé recently posted an Insta of her and Blue Ivy on the field. Of course, Blue Ivy wouldn't have been able to be on the field with her mom during the performance, so it looks as though she was there for moral support during rehearsal, and we're in love. Oh, and Bey posted the pic with a single blue heart. CUTENESS.
In fact, the whole fam was there!
And it looks as though all that rehearsal paid off, because Beyoncé totally rocked the world, naturally.
Allegedly, Jay-Z gave Bey 10,000 roses after the performance (according to U.S. Weekly), which is insanely romantic and supportive, and awww this family, we love them so much.