Blue Ivy telling Beyoncé and Jay-Z not to clap during the 2018 Grammys is winning the internet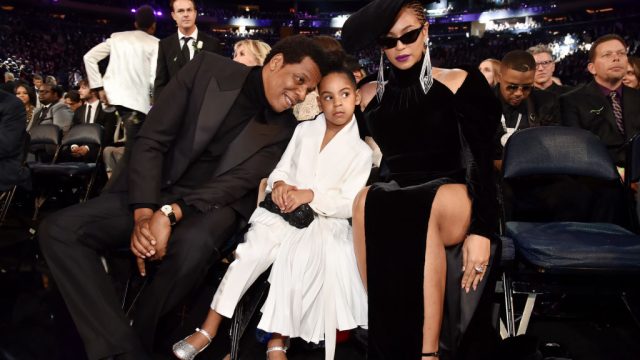 There were so many memorable moments at the 2018 Grammys, people are going to be talking about the show for a while. Patti LuPone brought down the house singing "Don't Cry for Me Argentina." Kesha's emotional performance with the Resistance Revival chorus gave us goosebumps. Twitter lost it during Hillary Clinton's appearance. And Janelle Monáe's speech was incredible. But one of the most epic moments of the 2018 Grammys didn't happen on stage or on the red carpet. It happened in the audience. In a blink-or-you'll-miss-it moment that a camera operator skillfully captured, Blue Ivy told Beyoncé and Jay-Z not to clap. And this display of shade must be seen to be believed.
In Beyoncé and Jay-Z's defense, they weren't clapping aimlessly. Camila Cabello was on stage, recognizing the Dreamers in a very important and emotional moment. Bey and Jay clapped to show their support, much like everyone else in the room.
"I'm here on this stage tonight because, just like the DREAMers, my parents brought me to this country with nothing in their pockets but hope," Cabello said before introducing U2. "They showed me what it means to work twice as hard and never give up. And honestly no part of my journey is any different from theirs."
It was a beautiful moment. But Blue Ivy was having exactly none of it.
That head nod. That hand motion. In just three seconds, Blue Ivy calmly but cooly makes her point: shh.
Naturally, Twitter loved it when Blue Ivy put Beyoncé and Jay-Z in their places.
https://twitter.com/udfredirect/status/957806482124361728
false
Maybe Blue Ivy was just shushing them so she could hear Cabello's words more clearly.
false
Whether BIC is a Camilizer or just embarrassed by her parents (maybe it's both!), this is definitely one of the best moments from the 2018 Grammys. At six years old, she's already an expert at shutting it all down.