This new tool uses weather data to tell you the exact day you should get married in your city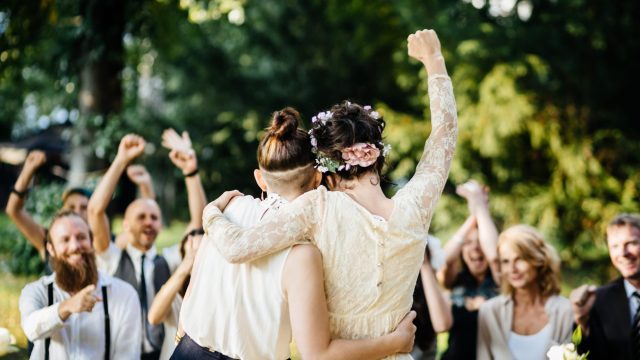 You can plan and prep until the cows come home, but sometimes, the success of a wedding all depends on Mother Nature's mood. If only there was a way to predict whether or not rain will plague your wedding day months or years in advance, right? Well, thanks to Bloomingdale's, that dream may now be a reality. The department store's website now has a tool that uses weather data to help brides and grooms-to-be pick the best day to say their vows. The future is now.
"We have determined the sunniest, clearest, most beautiful days of the year to get married in the U.S.," the site explains. "Tell us where you want to get married and we'll tell you the perfect day to do it."
To use the tool, simply plug in the town and state where you plan on getting married. The Bloomingdale's website then uses weather data collected by the National Oceanic and Atmospheric Administration (NOAA), from over 1,000 U.S. cities between 1981 and 2010, to predict the best day to get married in your selected city.
So for example, according to the Bloomingdale's prediction tool, the best upcoming day to get married in Boston, Massachusetts is July 1st, 2018. Or, if summer isn't your favorite season, the site suggests shooting for a spring wedding on May 26th, 2019, September 1st for a fall wedding, or December 1st for a winter wedding.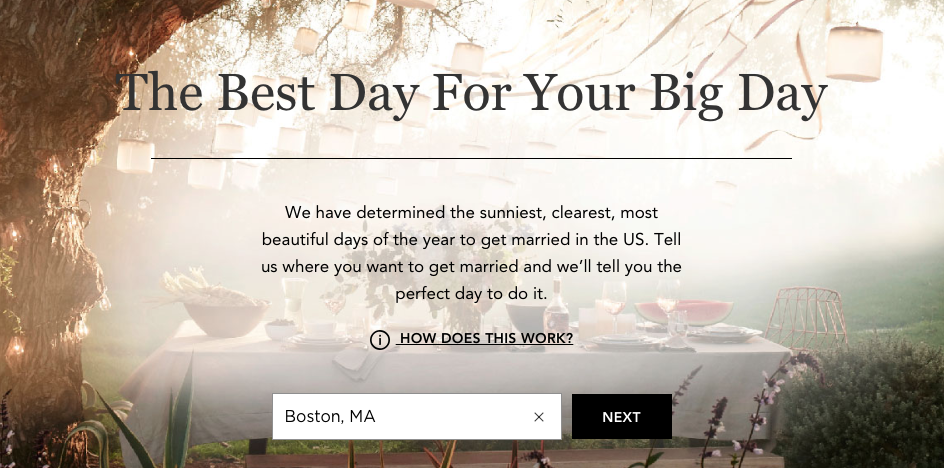 You're probably wondering what "perfect" wedding weather looks like in the eyes of Bloomingdale's. According to the site, "optimal days" in each city were selected based on low cloud cover, low chance of rain or precipitation, a comfortable humidity of 50%, and a comfortable average temperature of about 72ºF.
If you already have a date in mind, you can also use the tool to predict what the weather will most likely be on that day.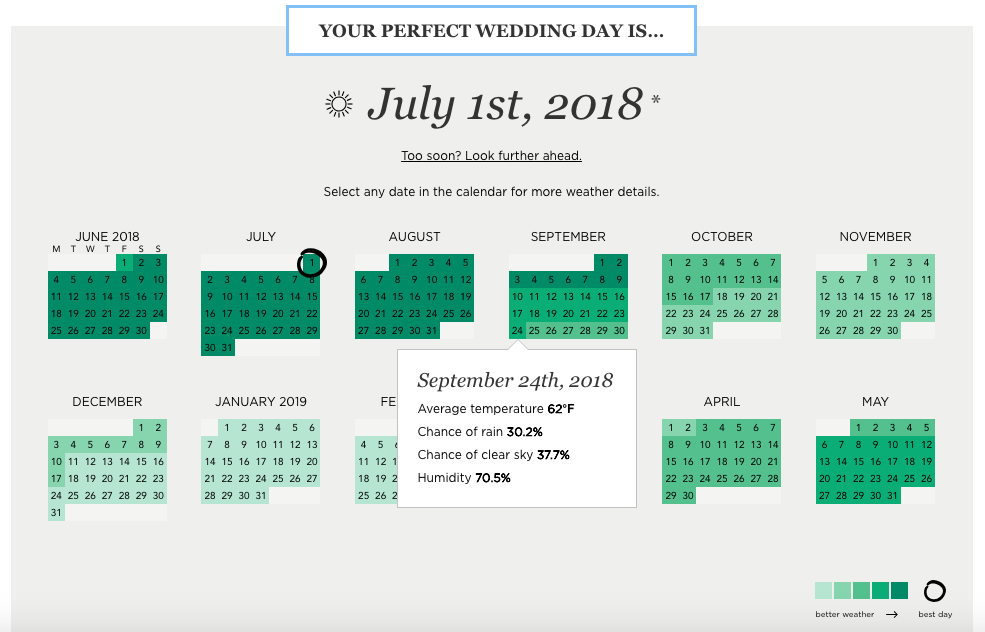 Check out the weather tool for yourself on Bloomingdale's website.
Of course, Mother Nature is unpredictable, so the tool can't preach that it is 100% accurate. But with science on its side, the Bloomingdale's weather tool could just save a pair of newlyweds from setting the date of their wedding during rainy season.