This bloody great coloring book aims to end menstruation stigma
While we have a complex relationship with our periods, the stigma surrounding menstruation just straight-up makes us see red. And that's why we are SO excited about this period-friendly coloring book. Created by Cass Clemmer, The Adventures of Toni the Tampon is one major step toward period acceptance. Seriously, Clemmer is the period hero we deserve and need.
The character Toni the Tampon has been around for over a year as a real, honest-to-goodness tampon with googly eyes. With an Instagram, Twitter, and Facebook account, Clemmer photographs Toni's adventures "outside the wrapper," as she told Mashable.
"I went from hiding my tampon in my sleeve to taking photos of it in public," Clemmer said to Mashable.
https://www.instagram.com/p/82H3YrKaxq
Toni has now evolved as the star of the coloring book The Adventures of Toni the Tampon, drawn by Clemmer. The coloring book is available to purchase for $12.00 on Amazon and also features Patrice the Pad, Sebastian the Sponge, and Marina the Menstrual Cup.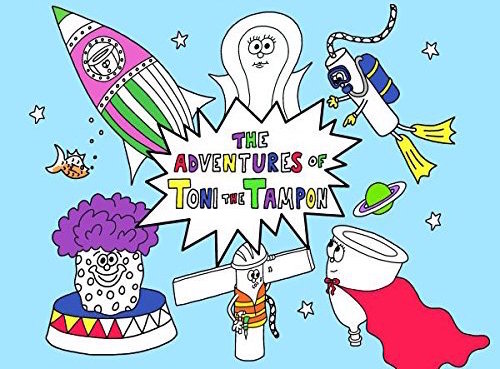 We applaud the fact that Clemmer is not only inclusive with the ways to manage your blood flow, but also by the fact that these products do not have specific genders. As she writes on her website, "Periods are not just for women, and not all women have periods."
In the coloring book, Toni and friends head to the Wild West and outer space with Clemmer writing on her website that The Adventures of Toni the Tampon is:
"Meant to serve as both a tool to help parents teach kids about periods as well as a fun way for adults to smash the period taboo, this book is great for all ages!"
Now this isn't the first time a period-themed coloring book has made the news. Andrea Yip is working on creating the Period Coloring Book that is both period- and sex-positive. Needless to say though, it's a bit more adult in tone than Toni the Tampon.
https://www.instagram.com/p/BMfUDx5BKy-
When it comes to period coloring books, we're here to say the more the merrier — especially since we think Toni makes for the most perfect gift.
https://www.instagram.com/p/BOHXfFxAaBI
We adore that Clemmer is giving much-needed attention to this topic that we have so often unnecessarily felt the need to keep hidden. And we'll most definitely help end the stigma surrounding menstruation by buying our own copy of the completely adorable, hilarious, and educational The Adventures of Toni the Tampon.