A blind dachshund and his guide dog were reunited after an adoption gone wrong, and the photos will break you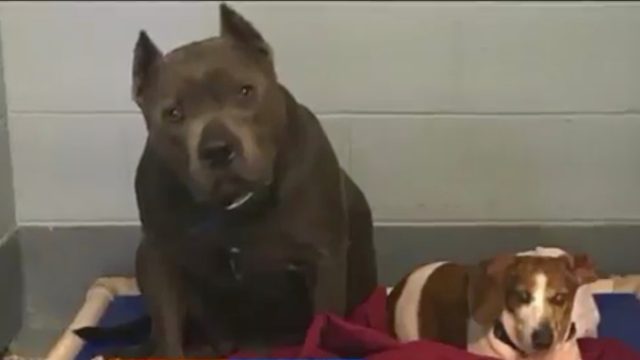 While dogs are man's (and woman's!) best friend, they can also be best buds with each other. That's definitely the case for a blind 12-year-old dachshund named OJ, who relies on his buddy (and actual seeing eye dog) Blue Dozer, a six-year-old pit bull. After being split up, the two managed to find each other again, and…just break out the tissues now. Trust us.
After their owner became homeless and could no longer provide proper care to the dogs, the duo were given over to the Richmond Animal Care and Control shelter in Virginia. Someone had a big enough heart (or so they thought) to adopt them together, but not for long. OJ was presumably abandoned by the adopter days later when he was found walking alone miles away from where he should have been. Blue Dozer was, presumably, at his new home.
OJ was rescued again, this time taken in by the Shenandoah Valley Animal Services Center. After figuring out who he was, they contacted the woman who took the dogs, who admitted — according to ABC affiliate WHSV — that she had no interest in keeping OJ. This (rightfully) sparked outrage in the community.
"She said 'so and so' was supposed to be watching him," Tracey Meadows, interim shelter director at Shenandoah Valley Animal Services Center, said to NBC12. "She went on to say that she didn't want him because he bites."
Thankfully, the adopter eventually decided to give Dozer up so that he and OJ could hopefully be adopted together. The pair were reunited, and they couldn't have been happier.
"We will not be doing anything with OJ & Dozer in the next few days other than snuggling them together. I will keep you posted if and when they are available for adoption," Richmond Animal Care and Control said on Facebook. "For the thousands of people that shared this incredible story and felt the love we did — thank you! Their story isn't over and we are grateful that we have an incredible staff that worked hard tonight to ensure these sweet dogs have another chapter."
https://www.youtube.com/watch?v=Pyi5vKo-Ups?feature=oembed
Here's to hoping OJ and Dozer find their forever home — and soon.