Jimmy Fallon cracked Blake Shelton up with a Gwen Stefani parody of his new music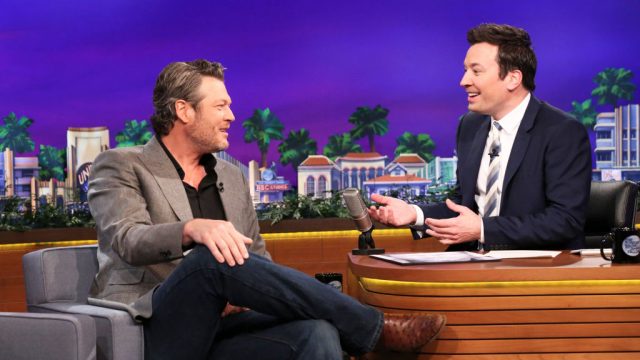 When, earlier this week, country star Blake Shelton appeared on The Tonight Show with Jimmy Fallon, we bet he was totally prepared to get dragged. However, he probably was not prepared for Fallon to bust out his best Gwen Stefani impression and "sing" one of Shelton's new songs.
The SNL alum has long been known for his ball-busting antics. Guests anticipate being teased. So it came as a happy surprise when Jimmy was able to get a real belly laugh out of the country crooner.
It all started when Jimmy asked Blake Shelton about his new album, If I'm Honest.
Shelton was going to supposed to sing his single, "Every Time I Hear That Song." Fallon intervened with his own improvised version. He used Paul Young's cover of the Hall & Oates song "Everytime You Go Away" as the melody.
Shelton giggled politely, as guests are supposed to do. But he still had something to say.
He said, "You don't even listen to country music!"
Jimmy took on the challenge by attempting to sing another song from the album. This time, he chose "A Guy With A Girl." Jimmy got a mischievous look in his eye. He requested a beat from his band that you will recognize as Gwen Stefani's mega-hit with band No Doubt, "I'm Just A Girl."
"I'm just a guy with a girl.  I'm just a guy with a girl.  That's all that you'll ever let me be," Jimmy sang.
It genuinely cracked up Blake. The country star responded, "Normally, you're not very funny, but that was pretty funny."
Check out the video below.
https://www.youtube.com/watch?v=eqaT0I8NhNM?feature=oembed