Blake Shelton and Gwen Stefani's duet on "Go Ahead And Break My Heart" is seriously the cutest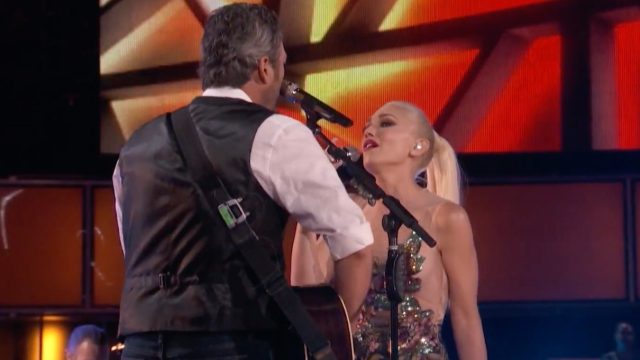 We've been head over heels with celeb couple Gwen Stefani and Blake Shelton ever since we first heard about the two lovebirds getting together. And we already knew that they drew musical inspiration from each other, so when we discovered they were working on a duet together, we expected it to be an emotional doozy. Turns out that yep, it was destined to be from the get-go, because Blake Shelton only started writing the song in the first place to "impress" Gwen. CUTENESS.
"When I originally started writing this song that we're performing tonight, I was only trying to impress Gwen," he told Entertainment Tonight on Monday before the performance.
The song was inspired by the heartbreak they were separately going through at the time, as Gwen had previously been dealing with her divorce from husband of 13 years Gavin Rossdale, while Blake had been going through his divorce with Miranda Lambert last spring. "I started this song and wrote about half of it and sent it to her and she wrote the other half of it. It was just kind of something for she and I to help us feel better about what we were going through," he told ET.
And if you think that's cute, you should see the live performance of the two of them singing the duet, "Go Ahead And Break My Heart," which was recorded in front of the studio audience on Monday an hour before The Voice kicked off. They face each other the entire time as they sing, and they're practically the epitome of the heart-eye emoji.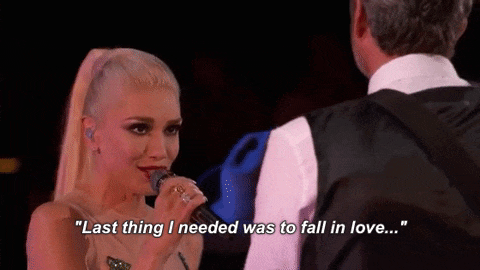 "The hardest part was not smiling throughout the whole thing while we're singing it because we can't believe this is happening. We still can't believe this is happening," he continued to ET. "It's cool to be witness to something that's this honest and fun."
Aaaaand we're crying. Blake Shelton explained that Gwen has taught her a lot because she's "so brutally honest in her writing," and that he's been listening to all her music to learn more:
"I used to just love [her] songs that I heard on the radio and I didn't really know the stories," he explained. "All these songs you know by her, whether it was her solo stuff or [from her] album, she's just telling you something that just happened to her. So I got to share in that with the writing of this song and it's pretty special to me. . . It's funny because I still discover songs [by Gwen] that I know almost by heart that I didn't even know that she's the one that sang them."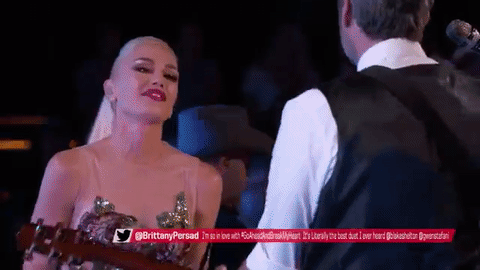 Yep. Misty-eyed over here. Check out the full performance below of "Go Ahead And Break My Heart" and be prepared to witness some *serious* chemistry. We're so happy for you, Gwen and Blake — and please collaborate more soon! https://www.youtube.com/watch?v=