Blake Lively's Insta message to Ryan Reynolds is seriously making us tear up guys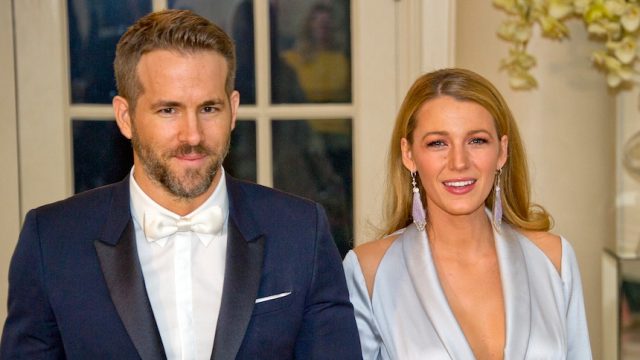 Not only are they one of the cutest Hollywood couples ever, but their genuine love and respect for each other is enough to make our eyes flood with tears of happiness. That's right, we're talking about Blake Lively and Ryan Reynolds.
Specifically, we've zeroed in on the sweet message Lively posted about Reynolds on Instagram after he was honored with a star on the Hollywood Walk of Fame.
NBD…just the biggest moment of his career!
Oh, and it led to a rare public appearance with their daughters, which made us even more excited! ANYWAY, Lively's post was full of admiration for Reynolds, who really has had such amazing success in movies.
https://www.instagram.com/p/BOEHcoTgxpl
"Proud is a pitiful word to describe how I felt today. @vancityreynolds The permanence of your impact is undeniable...Always has been, but now we have a fancy 🌟to show for it. 😊"
See those sneakers on the left? That's their 2-year-old daughter James! Awwwww. And their second daughter is also there (in the arms of her parents) so it was a whole family affair.
Ever the humble gentleman, Reynolds also posted an Instagram message, thanking those who gave him this honor. And being funny, because of course.
"Thank you to the @hollywoodchamberofcommerce and @20thcenturyfox. This is one of those "pinch me" moments. But not in the creepy way my Aunt used to do it."
In his speech at the event, Reynolds thanked his wife for being "everything" to him, and for making him the father of his dreams. Awwwwwww!
SWOOOOOOON.
Oh yeah, and Hugh Jackman posted a pretend acceptance speech on Ryan's behalf. And it was very special, because he donned a Ryan Reynolds mask and said, 'G'day!' pretending to be Reynolds the method actor working on his Aussie accent.
That's a slam dunk if we ever saw one.
But back to the real Ryan Reynolds…so many congrats to him, and endless love to this couple!
H/T: People