Blake Lively just shared the best #tbt photo from "The Sisterhood of the Traveling Pants"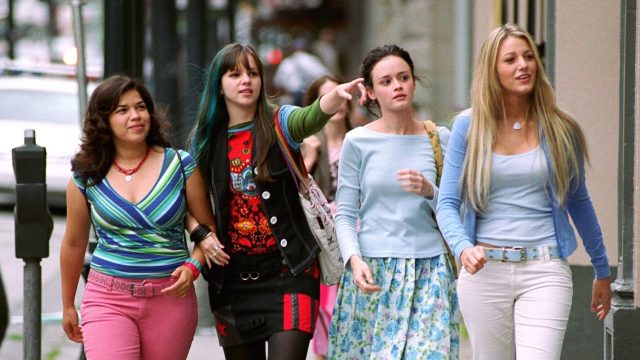 #LeanInTogether is a hashtag that's been all over Instagram. That's because it honors Together Women Can, a campaign created by Facebook's COO Sheryl Sandberg to encourage women to help each other grow. This initiative aims to get women to act as mentors, allies, and role models for other women in the workplace and in the world. When it comes to this type of support, Blake Lively has provided us with the perfect example. 
Yesterday, on her Instagram account, Blake brought us back in time with a The Sisterhood of the Traveling Pants snapshot. Now, this wasn't the type of image we can see when we re-watch the movie. It was, instead, a behind-the-scenes photo of Blake and her three sisters: Amber Tamblyn, America Ferrera, and Alexis Bledel. It features the four of them, on an airplane, smiling like crazy.
"Not just my friends, but my sisters, my mentors, my inspiration– Artists, poets, activists, women," wrote Blake, paying tribute to her denim sisters. "We can and do empower each other. ?❤️ When women support each other, we accomplish amazing things. ?Celebrate the women who #LeanInTogether with you."
We love that these four are still BFFs, even though they filmed The Sisterhood of the Traveling Pants back in 2005. Plus, Amber and America are still feeling the love on social media (Alexis doesn't use her accounts). They reposted Blake's photo and offered some beautiful words of their own.
"This flight and trip was a very special and sacred day for me. I love this photo so much," wrote Amber, making us wonder where they were headed. "Surround yourself with good women in your life. It means everything. Love my sisters."
As for America, she provided her own loving statement: "Could not have said it better myself."
Can Alexis, Amber, America, and Blake please make sure that The Sisterhood of the Traveling Pants lives on forever?