Blake Lively believes society's fascination with post-baby bodies is "so unfair"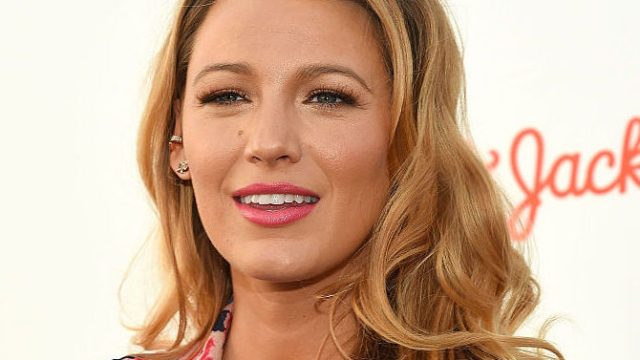 Pick up any magazine today and you're bound to find some kind of story about a beautiful celebrity and her impossibly stunning post-baby body. What's perhaps even more popular are the pages that feature a post-baby workout.
Well, Blake Lively isn't too happy with this trend, and she's not going to remain silent on the topic (as if we would ever expect her not to speak her mind).
In a recent interview with Australia's Sunrise, Blake got very real about what it was like to shoot her latest movie The Shallows, just eight months after she gave birth to her first child James. Blake called it a "physical challenge" more than anything else — the long, grueling hours in the water, the extended scenes they shot, and more.
Then, the interviewer brought up the whole "post-baby body" thing, noting that if anyone wants to know how she landed her beautiful post-baby figure, it was because she did all that endurance training to shoot this movie. (The guy had also just referred to her as "Mrs. Ryan Reynolds." Dude, come on!)
https://www.instagram.com/p/BGch516x4Bt
Fortunately, Blake didn't hesitate to shoot back with a truth bomb:
"It's so unfair, though … It's so celebrated, 'This is what someone can look like after a baby!' And I think a woman's body after having a baby is pretty amazing."
She said there's no need to worry about getting yourself catwalk model-ready right afterwards. After all, you just accomplished one of the most amazing things in the world!
"You've just [performed one of the most incredible miracles] life has to offer. You gave birth to a human being. I would really like to see that celebrated."
We would, too, Blake! Also, how about we stop focusing so much on her body and turn our attention to how smashingly well her movie is doing at the moment? The Shallows got a 77-percent certified rating on Rotten Tomatoes, and the movie was said to feature a "powerful performance by Blake Lively." It may look like your typical, silly shark movie, but critics are saying it's so much more than that.
Besides, look at Blake's love for life in general. She's clearly a successful, wildly happy, hard-working woman who happens to be a mother and a wife. Let's listen to her advice and celebrate women's bodies exactly the way they are — post-baby or not.