Blake Lively, Amber Tamblyn, and America Ferrera spent New Year's Eve together, establish clear #FriendshipGoals for 2017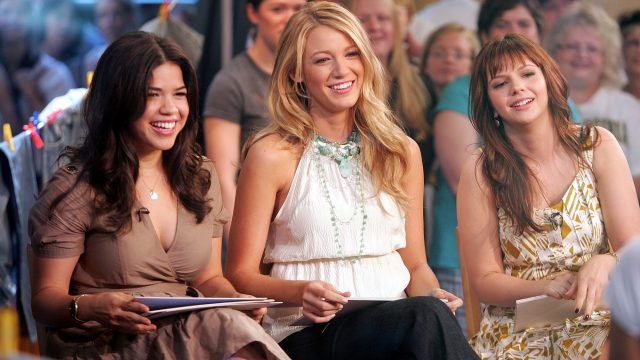 The friends that share pants together, stay together, and they also celebrate New Year's Eve together. What should come as a surprise to no one, three out of the four Sisterhood of the Traveling Pants alumni rang in the New Year in style (Sorry to call her out, but Alexis Bledel was suspiciously MIA, so let's go ahead and pretend that she was busy prepping for Gilmore Girls: A Year in the Life, Season 2, mmmmk?).
Earlier today, Amber Tamblyn shared a picture of her and Blake Lively hanging out and being awesome together on NYE. It will warm your heart in so many ways.
Obviously, these two missed their other BFF a lot, so they decided to call America.
Not the country. The person. America Ferrera.
https://www.instagram.com/p/BOvFU9Dg7I4
What we've got here is a clear screenshot from Blake's phone, with this trio spending time together, no matter where they are in the world. Amber shared the same picture to her own Instagram with a perfect caption:
FaceTiming with my sister's right after midnight is the best way to start off the year.
First up, this is precious. Second, this IS the best way to start a new year. And third, Amber writes that they're SISTERS and our hearts just can't take it.
It's going to be really hard to top this friendship moment for the rest of the year, and we're only one day into 2017. This will also probably be a monumental year for these ladies, since Blake just had her second baby, and Amber is expecting her first. Hope America realizes now waiting on her to have her own little one, and then these three sisters can start organizing the most *epic* playdates.
No word on whether or not Ryan Reynolds and David Cross were invited to this NYE shindig, but we'll keep you updated.