11 times Blake Lively proved she is the funniest mom on Instagram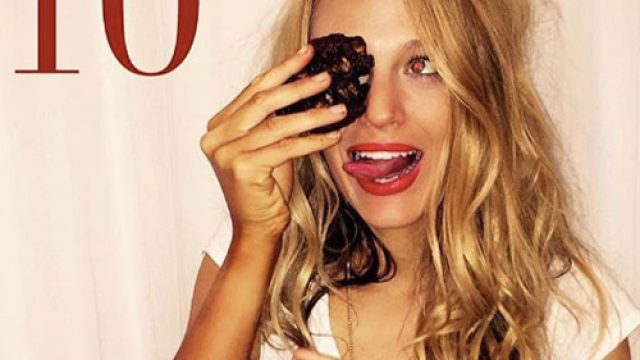 Blake Lively is one of the cutest moms ever, not to mention one of the most gorgeous celebrities! The 28-year-old star will forever be one of our favorites for her role as Bridget in Sisterhood of the Traveling Pants, and for showing everyone what life on the Upper East Side is all about as Serena van der Woodsen on Gossip Girl. That being said it's her Instagram life that we are currently geeking out about.
While Lively's fashion related posts are to die for, and anytime she includes her handsome husband, Ryan Reynolds, in a snap we freak out, it's her hilarious pics that make us love her the most. She is clearly the funniest mom on Instagram and we have the pics to prove it.
Tat life
When Lively attended the Target's Cat and Jack brand launch in New York, she got some ink and it hurt! Okay, she got a temporary tattoo and made a joke about it not hurting and we can't stop laughing. "Gettin' ink. Whoever said temporary tattoos aren't painful… was actually quite right," she captioned the pic.
https://www.instagram.com/p/BIJUz1Gg1Br
FaceTime fun
In January, Lively FaceTimed her nephew to wish him a happy birthday and the screenshot she shared after was glorious. Plus, she hashtaged it, #FutureCatLady, which is just too funny.
https://www.instagram.com/p/BAn4J6Ex4D9
Teen Witch always wins!
If you haven't seen Teen Witch with Lively's older sister, Robyn Lively, you are seriously missing out. The two sisters are BFFs in real life and Lively isn't shy about her low-key obsession with the film. "Who wore it bett..SHUT-UP!! We all know Teen Witch wins. Always. All ways," she wrote alongside a side-by-side photo of her dressed similar to her sister's movie character.
https://www.instagram.com/p/BHAsRApR4EA
Every time she preps for a press event
Lively lives a glamorous life and always looks perfect on the red carpet or during any press event she attends, but she is a struggle (aka she's a real person) during the prep phase of the day. Need proof? Check out the shot below… or any other photo on her account!
Mermaid throwback
In case you were wondering, the pregnant star is the queen of #TBT posts. In early June she revealed she was a major Ariel fan by sharing a retro pic of herself in a cute bathing suit posing with The Little Mermaid characters. All she wrote with it was, "…THIS."
Photoshop lovers
Everyone loves a good Photoshop/face swap picture and Lively is no exception. Whenever the Cafe Society actress receives a funny piece of fan art or a goofy photo creation she shares it and it definitely makes us LOL. For this husband and wife shot she captioned it, "What's sexier than a man on a scooter?! …everything actually."
https://www.instagram.com/p/3eKeiGx4Cf
The real Disney inspiration
After being compared to Cinderella at Cannes Film Festival in 2016, Lively revealed she was inspired by a Disney character, but not the one you'd think… It was actually Ursula!
https://www.instagram.com/p/BFrriavR4KB
Shoutout to Ryan Reynolds
Ever wonder how Blake and Ryan fist got together? Well, the Gossip Girl star joked it's all thanks to spiders in a funny — and hot — shot of her hubbie.
https://www.instagram.com/p/1_d41Gx4OJ
Never Let Go, Jack!
While thanking everyone for seeing her film, Age of Adeline back in April 2015, Lively referenced Titanic and it was everything. "Thank you to everyone who saw #AgeOfAdaline today!! ??❤️??? Spoiler alert: Jack Dies. …different movie. Sorry. I get confused with all this 'never let go,' 'let go' business!!! ??☺️
https://www.instagram.com/p/14dD9lx4O8
Strawberries and babies
"..One of these bunches of strawberries is about to be filled with poop. #LetsBeHonest @jessicaalba knows how to make even poop look good…," Lively wrote alongside a strawberry-filled photo last year. #MomJokes
https://www.instagram.com/p/0RcztgR4Pg
Incredible hair moment
What's funnier than Syndrome's hair in The Incredibles? Lively doing a side-by-side photo with her hair mimicking the Disney-Pixar villain, complete with matching face!
https://www.instagram.com/p/0eaSdix4Dl
Blake Lively, you are our Instagram hero! #MomLife looks great on the Cafe Society actress and we can't wait to see what she posts next. What's your favorite Blake post?