We have the first teaser for the "Blade Runner" sequel, and we're all eyes (for dream team Ryan Gosling and Harrison Ford)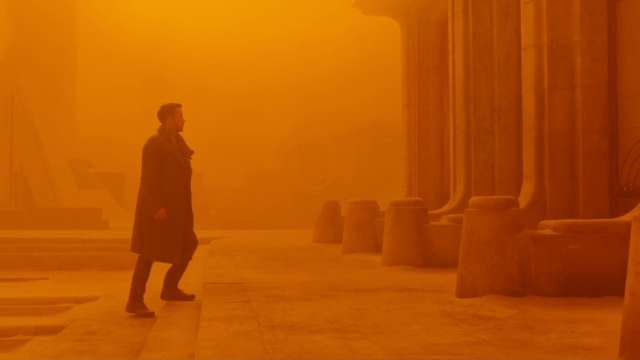 Sci-fi lovers, the moment you've been waiting ages for has finally arrived. We finally have a look at Ryan Gosling and Harrison Ford in the teaser for Blade Runner 2049. The original film was made in 1982; it's also one of President Barack Obama's favorite sci-fi movies. Now, we have some tantalizing footage of the Blade Runner sequel, which also costars Jared Leto.
Blade Runner was directed by Ridley Scott, and based on Philip K. Dick's Do Androids Dream of Electric Sheep. It stars Harrison Ford as a "blade runner" – a hunter of rogue, seemingly human androids called replicants. Now, Scott returns as executive producer with Denis Villeneuve (Arrival) directing.
In Blade Runner 2049, Ryan Gosling stars as a current blade runner. In the teaser, he pays a seemingly unannounced visit to Harrison Ford's Rick Deckard (After all, Deckard is aiming a weapon at him). Deckard warns Gosling's Officer K: "I did your job once. I was good at it." K replies, "Things were simpler then."
https://www.youtube.com/watch?v=GDscTTE-P-k?feature=oembed
According to Alcon Entertainment, our hunch about K's visit is correct. Their brief description of the plot is as follows: "Thirty years after the events of the first film, a new blade runner, LAPD Officer K (Ryan Gosling), unearths a long-buried secret that has the potential to plunge what's left of society into chaos. K's discovery leads him on a quest to find Rick Deckard (Harrison Ford), a former LAPD blade runner who has been missing for 30 years."
Despite some intriguing new things (the yellow/orange landscape, for instance), some of the visuals do hearken back to the original film. For example, the dark, foggy, neon-filled streets of a future Los Angeles are familiar. However, the teaser doesn't give us much detail, TBH. We still don't know who Jared Leto is playing, for example.
The film will be released in 2017, so we probably have a while before we get more clarity on the details. Still, we can't help but be excited for it. We wonder if President Obama is just as stoked as we are?