Tracee Ellis Ross was on 'The Late Show' and had the best response to the question 'What is blackish?'
Riding high from making history as the first black woman in 30 years to be nominated for lead actress in a comedy series, Blackish star Tracee Ellis Ross, schooled Stephen Colbert on what it means to be blackish.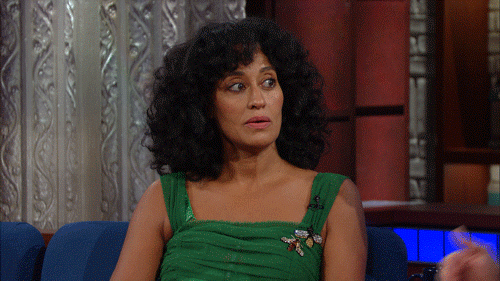 Days before the Emmys, the actress appeared on The Late Show Thursday night. Colbert explained he's been asking all her co-stars, "What is blackish?" so naturally, he had to ask her as well. "I don't know the black experience. I don't think I know the blackish experience. What is blackish as opposed to black?"
After letting out a long uuuggghhhh, the actress did not hold back. "Being black is not a monolithic experience so our show explores what it is to be black today and how that has evolved and changed and is changing." She continued, "It's exploring what black is today."
Colbert jokingly responded, "Can I have a shot at being blackish?"
Ross playfully shot back:
"To a certain extent, you missed the point by asking that question, however," she continued, "I believe in a colorful world so it's not really about you needing to be something other than you are. It's actually about two people celebrating what they are and finding a connection in that and the human experience."
Well said, Ross. We couldn't have said it better ourselves.
We are so excited about your nomination and wish you the best this Sunday!
Watch the whole interview below.
https://www.youtube.com/watch?v=e1_x1GV5HSg?feature=oembed