Blackish star Jenifer Lewis wore a Nike sweatsuit to the 2018 Emmys for this powerful reason, and bless you, queen
Blackish actress Jenifer Lewis showed up to the 2018 Emmys in a statement-making look that has little to do with this year's OG athleisure trend. Lewis, who donned a black and red Nike ensemble replete with jewel-encrusted logo, wore the brand to support NFL player and originator of the #TakeaKnee movement, Colin Kaepernick.
"I am wearing Nike to applaud them for supporting Colin Kaepernick and his protest against racial injustice and police brutality," Lewis told Variety's Marc Malkin, adding that her look is custom Nike. "Honey, I had some drag queens come over and put some beads on it, some sparkle. You know how they roll."
For a refresher: during the 2016 NFL season, Kaepernick, who is currently a free agent, began taking a knee on the field during the national anthem to protest the continued loss of black lives due to police brutality and the racial injustices people of color face in the United States even in 2018. While many players across teams joined Kaepernick in his silent protest, conservative media outlets criticized the athlete for refusing to stand for the national anthem.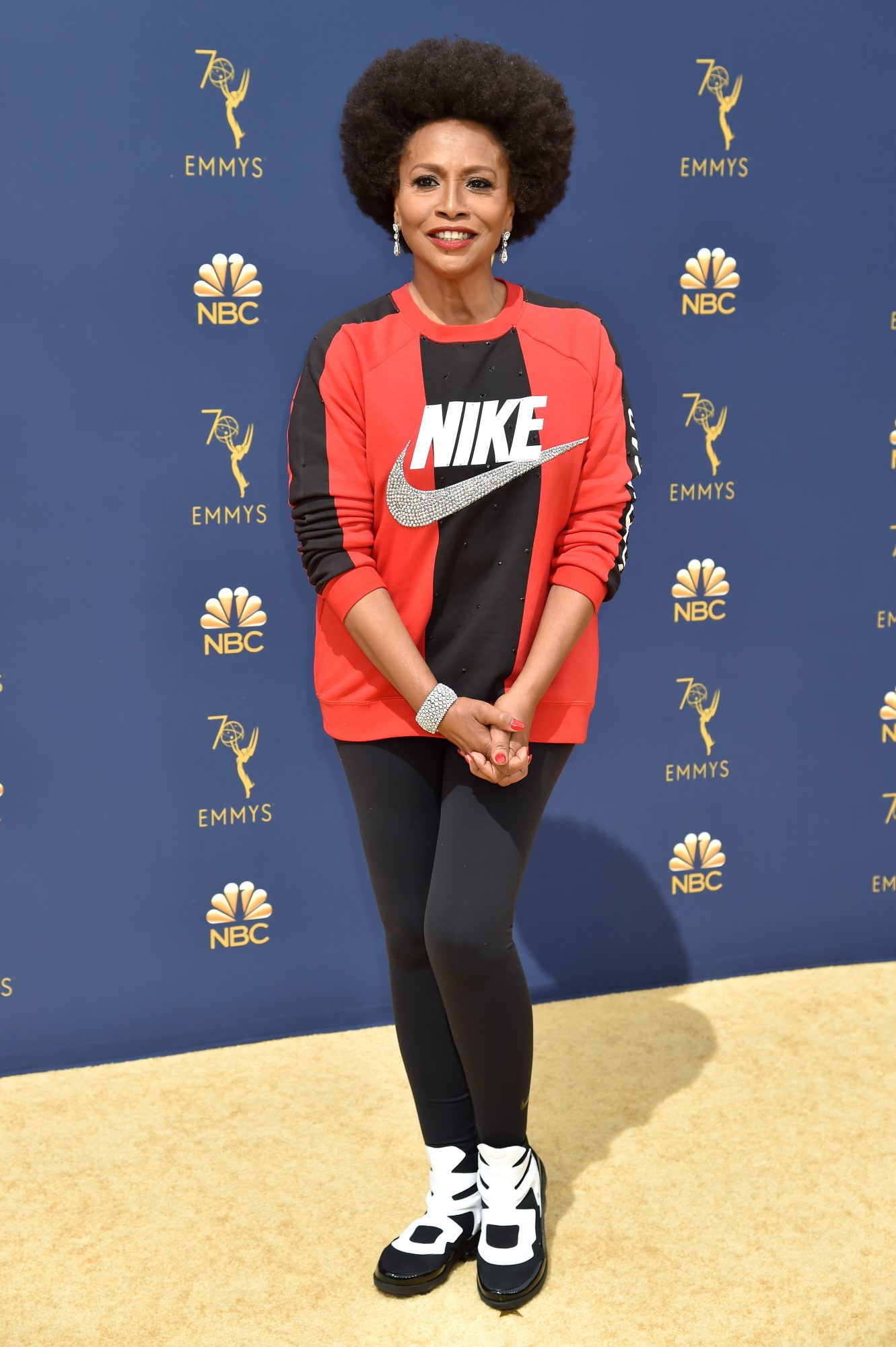 Fast forward to September 2018, when Nike announced that Kaepernick would be its newest spokesperson in a campaign that highlights the #TakeaKnee movement. The Nike campaign caused some conservatives to take drastic (and idiotic) action, like burning the Nike clothing and shoes they own. But for the most part, people have praised Nike for choosing to spotlight Kaepernick and the  movement he started, and sales have reportedly risen since the campaign's debut.
Lewis also explained when and why she decided to wear the bold sweatshirt:
"You know, I was actually swimming the other day, and I was like, What can I do? What can I do that's meaningful? I'll wear Nike. I'll wear Nike to say "thank you"—thank you for leading the resistance. We need more of corporate America to stand up also. These are not dark times, these are awakening times. And we all have to wake up."
We're here for Jenifer Lewis on so many different levels: First, for supporting a movement that puts emphasis on the value of black lives, denounces police brutality, and calls for major institutions to reassess policies that keep players from making political statements that matter to them. Second, because it looks so damn comfortable. Seriously, if we had to choose one look from tonight to be wearing at home in front of our television screens, this would be it.