There's going to be a black woman on the Canadian $10 bill, and here's who she is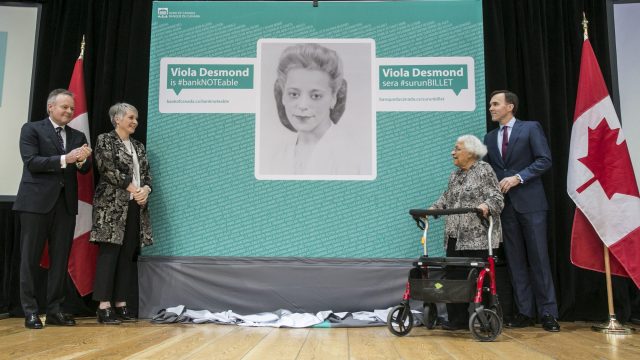 After months of deliberation, the Canadian government has finally named Viola Desmond as the woman to be featured on the new Canadian $10 bill. The fight for more female faces on currency is nothing new. Take America's Women on 20s, for example: We've even seen some pretty great DIY versions with icons from Rosa Parks to Laverne Cox.
So it's pretty exciting to see America's neighbors to the north honoring a woman on the new Canadian $10 bill. While Canada already has one female on the face side of a banknote (the Queen is on the $20), Desmond will be the first non-royal woman (and the first woman of color) on the face side of a bill.
So who is Viola Desmond?
Desmond was an entrepreneur, business woman, and civil rights icon. She is best known for standing her ground after being asked to move from the whites-only area of a Nova Scotia movie theatre in 1946.
https://www.youtube.com/watch?v=ie0xWYRSX7Y?feature=oembed
She faced tax evasion charges – over the one cent difference applied to white tickets – and spent the rest of her life fighting legal battles. An official pardon was granted only in 2010, 45 years after she passed away.
Though Desmond has been called "Canada's Rosa Parks," others have pointed out that since Parks' famous refusal to give up her seat occurred nine years later, she could be called "America's Viola Desmond." We'd rather recognize each of these remarkably strong women for their actions and contributions as individuals.
The runners-up
Desmond was chosen for the Canadian $10 bill from a shortlist of five women. The Bank of Canada's "BankNOTEable" campaign received over 26,000 nominations after it opened on International Women's Day this year. The other shortlisted women were: E. Pauline Johnson, an Aboriginal poet; Elsie MacGill, the world's first female aircraft designer; Bobbie Rosenfeld, a prolific Olympian; and Idola Saint-Jean, a Qubecois suffragette.
You can get your hands on a Canadian $10 bill featuring Viola Desmond starting in 2018.