Black voices are needed throughout the year, not just during Black History Month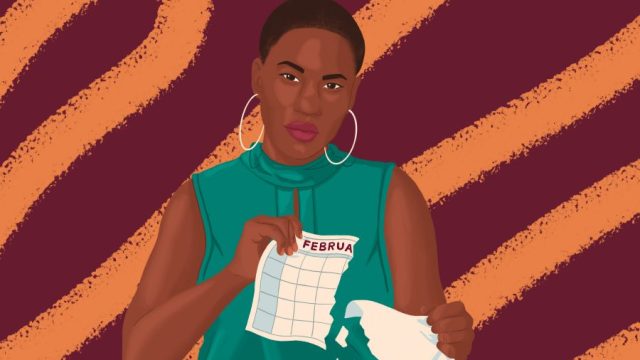 The shortest and often coldest month of the year is also home to Black History Month, a dedicated time to honor the profound legacies and contributions of Black people, and to celebrate our culture through festivities and events that uplift the Black community. Throughout the necessary displays of Blackness and commemoration, there is often a larger presence of white and non-Black magazine editors making their rounds on social media with posts targeting Black people in the creative field. They'll share lucrative details of enticing job opportunities for Black folk specifically, but the surplus of opportunities during Black History Month arguably pale in comparison with the other eleven months of the year. This has raised some valid concerns.
Granted, this is a win for many Black writers eager to share their stories and add a byline or two in the process, but it also proves that Blackness is only considered valuable during Black History Month.
When February rolls around, you could almost guarantee that white and non-Black editors will be on Twitter rounding up Black creatives for the month. The tweets usually read: "Looking for Black writers to contribute to [publication] for Black History Month. Have an interesting take on the following? Pitch me at [email address]." Some of the posts often call for interesting takes on food, lifestyle, or media items, while many specifically center the submissions around Blackness and trauma. In typical fashion, the tweets almost always tag @WritersofColor (a page dedicated to finding writing jobs for POC in the U.S.) and/or utilizes the hashtag #blkcreatives, founded by Melissa Kimble, in the closing.
With both pages sharing a combined total of nearly 70,000 followers, many of the tweets targeting Black creatives surpass retweets well into the hundreds or thousands, sometimes achieving viral success. In the mentions, anxious writers eager to land their next opportunity get ready to make their move, despite many publications offering very few openings, which fail to meet the demand.
This formula has been typically practiced on social media to a) find Black creatives who can fulfill the Black History content quota for the month and b) to appear diverse. Whereas the attempt to present themselves as an inclusive platform may be genuine for some publications, several of them fail to employ Black writers full-time or employ Black editors on their masthead. Not to mention that Black freelance writers are often paid less than their white/non-white counterparts.
While the opportunities are scarce for Black people overall, Black women are greatly underrepresented in U.S print and online news publications.
According to data from the American Society of News Editors, Hispanic, Asian, and Black women made up less than 5 percent of newsroom personnel in 2016. In traditional print and online-only journalism, Women's Media Center reported that Black men accounted for 2.49 percent among newsroom leaders and Black women were at a meager 2.22 percent in 2017. Ultimately, the overwhelming response to the opportunities during Black History Month proves that there isn't a shortage of Black writers, but there's a shortage of opportunities for Black writers.
So where do we go from here? Many would argue that any opportunity is better than no opportunity at all, but these publications need to do better.
Yes, Black creatives are presented with the chance to add a byline to their portfolios and have their writing viewed by a larger audience—but what about the other eleven months of the year? Are these publications making a conscious effort to ensure that Black writers can pitch and share their stories all year long?
Until I see more Black people employed at these publications, I refuse to give them a round of applause for reaching out during Black History Month. If editors and publications alike continue to seek out token spots in media when convenient, employ the status quo, and don't consider diversity beyond optics, they are complicit and part of the problem. Black writers exist and newsrooms should reflect the general public. That means ensuring that Black writers and other minorities can tell our stories 365 days of the year.