A black Texas high schooler was expelled for not saying the Pledge of Allegiance, and she's suing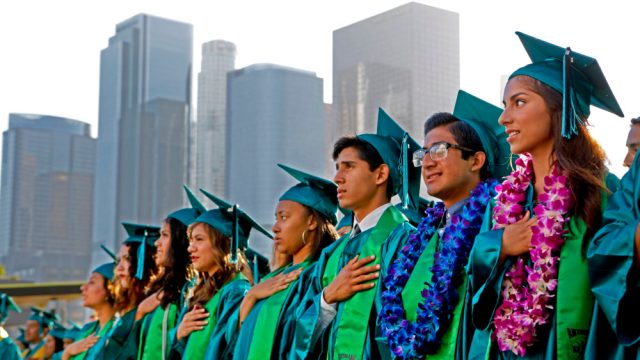 Despite the fact that the "Take A Knee" movement has always been about protesting the ever-increasing instances of police brutality against black people in America, those who participate are often deemed "unpatriotic"—and it's even happening off the football field. This most recent case involves India Landry, a former student at Windfern High School in Houston, Texas, who was expelled in October 2017 for refusing to stand for the Pledge of Allegiance.
The now-18-year-old cited NFL players kneeling in protest as her inspiration for refusing to participate in the pledge. After her expulsion, she told reporters from KHOU-TV, "I don't think the flag is for what it says it's for, liberty and justice and all that." However, reciting the pledge is technically mandatory in the school district, which led to Landry's expulsion.
https://twitter.com/udfredirect/status/1044953459609473025
Within days of the decision, Landry filed a lawsuit on the grounds that the expulsion was in violation of her right to free speech, and stated that the decision to kick her out of school was racially motivated. She accused the high school's principal, vice principal, secretary, and two teachers of treating her unfairly because she is a black student.
Although Texas law does excuse students from participating in the pledge if they have a written letter from their parents, Landry did not have a letter on file, and it's this small legal detail that has enabled Texas Attorney General Ken Paxton to uphold the school district's decision.
In a news release, Paxton said, "School children cannot unilaterally refuse to participate in the pledge." Landry's attorney, Randall L. Kallinen, responded by calling Paxton's sentiments a case of "politicking." Kallinen also told The Houston Chronicle, "The reason he's challenging this case is that it's election time." 
Peaceful, respectful protest is an American value, and not saying the pledge as a form of protest is just about the most American thing one can do. We sincerely hope Landry wins her case—and that it shines much needed awareness on her cause.