A white employee called the cops on a black Smith College student while she was eating lunch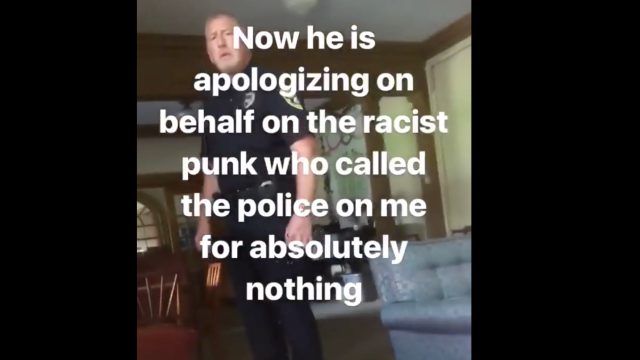 The past few months have seen numerous reports of white bystanders calling the police on black citizens for simply existing. There were the two men arrested for merely waiting in a Starbucks. Then, there was the black Yale student napping in a common area. And most recently, a black student at Smith College was confronted by police while she was eating lunch.
MassLive reported that on July 31st, Oumou Kanoute, an undergraduate at the women's college, was relaxing on her lunch break when campus police asked what she was doing there. Kanoute has reportedly been working on campus over the summer as a TA. According to The Boston Globe, the employee who reported Kanoute said she "seemed out of place."
In a Facebook post on July 31st, Kanoute shared a video of the encounter with the police officer and wrote that she had simply been reading and eating when the cops approached her.
"I did nothing wrong, I wasn't making any noise or bothering anyone," she wrote in her post. "All I did was be black. It's outrageous that some people question my being at Smith Collge [sic], and my existence overall as a women of color."
She went on to write that the incident had caused her to feel stress and anxiety.
"It's just wrong and uncalled for. No student of color should have to explain why they belong at prestigious white institutions," she wrote. "I worked my hardest to get into Smith, and I deserve to feel safe on my campus."
In a statement posted to Facebook on August 1st, the college wrote that the officer found "nothing suspicious about the student's presence."
"This incident has raised concerns in our community about bias and equity," the statement read. "Smith College does not tolerate race- or gender-based discrimination in any form. Such behavior can contribute to a climate of fear, hostility and exclusion that has no place in our community."
The college added that it would investigate the employee involved with the help of the campus police and HR, and it encouraged other students experiencing racial discrimination to report it. The statement was later updated to clarify that the college could not release the name of the employee who called police on Kanoute.
No person of color should ever have to justify their presence anywhere. Kanoute's experience is yet another reminder that we have a long way to go.