You can listen to the entire "Black Panther" soundtrack right now, and it will make you feel like a badass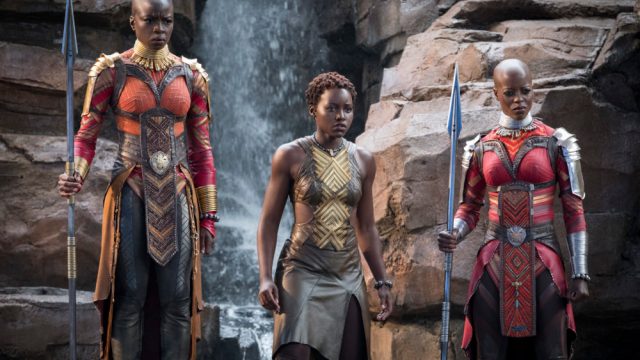 Black Panther arrives in theaters on February 16th (so soon), and after reading some of the initial, glowing reviews of the movie — it's currently at 98% on Rotten Tomatoes, and that has us beyond excited — the fact that we have to wait until it premieres is almost unbearable. However, Kendrick Lamar has made the wait a bit easier by dropping the entire Black Panther soundtrack that he curated, produced, and performs on.
We've been listening to it all morning, and dear readers, this soundtrack is just so good. Like, NEXT-LEVEL GOOD. There are seriously so many instant classics on it.
As The Hollywood Reporter notes, Lamar curated the Black Panther soundtrack with his label's head, Anthony "Top Dawg" Tiffith, bringing together many talented people to create the perfect mood for Wakanda and Black Panther. Of course, Lamar didn't just curate the album. He has 14 writing credits on the soundtrack and performs on five of the songs. And Lamar did a stellar job bringing in top-of-their-game artists to work on the music either for or inspired by Black Panther, including The Weeknd, ScHoolboy Q, 2 Chainz, Ab-Soul, Future, and Travis Scott.
His single with SZA, "All the Stars," was released earlier this year, and fans quickly fell in love with the tune.
And the music video, for that matter.
https://www.youtube.com/watch?v=JQbjS0_ZfJ0?feature=oembed
And the entire Black Panther album — which Lamar tweeted out last night, February 8th, along with details about where to purchase and stream, plus a complete track listing — is a fantastic creation that transports you to another place. It's available everywhere and can be streamed on Spotify.
If you need us, we'll just be listening to the soundtrack on repeat all day, every day, until Black Panther hits theaters on February 16th. And we imagine you will be, too.