"Black Panther" is a reminder that Black women "never freeze"
This essay contains spoilers about Black Panther.
I went into the new Marvel film Black Panther pumped to cheer for the titular superhero, Black Panther, and his fictional African country of Wakanda. I did not leave the theater disappointed. The film is a start-to-finish adventure with attention to detail and obvious care for African cultures. But the characters who impressed me the most in the star-studded ensemble cast were not either of the men who wore the Black Panther suit in the film. Rather, the robust portrayals of Black women stole my heart with their brilliance and power.
In one of the opening scenes in Black Panther, Chadwick Boseman's T'Challa and Danai Gurira's Okoye track a caravan of trucks hiding a Wakandan spy during a covert mission. But before they de-cloak the Royal Talon Fighter aircraft and swoop down to kick bad-guy-butt, General Okoye warns T'Challa, "Don't freeze when you see her." She is referring to Nakia (played by Lupita Nyong'o), a Wakandan war dog operative who is also T'Challa's former lover. T'Challa feigns woundedness when he answers Okoye, "I never freeze!" But freeze he does. In the end, it falls to the fierce and fearless Okoye to clobber a creeping enemy over the head to save Nakia while T'Challa gazes at her beauty.
T'Challa's words about not freezing in the heat of battle echo throughout the movie. His sister, Shuri, superbly brought to life by Letitia Wright, ribs him about it good-naturedly.
However, the phrase "I never freeze" would have been much better uttered by one of the Black women in the film, because they prove it true at every moment.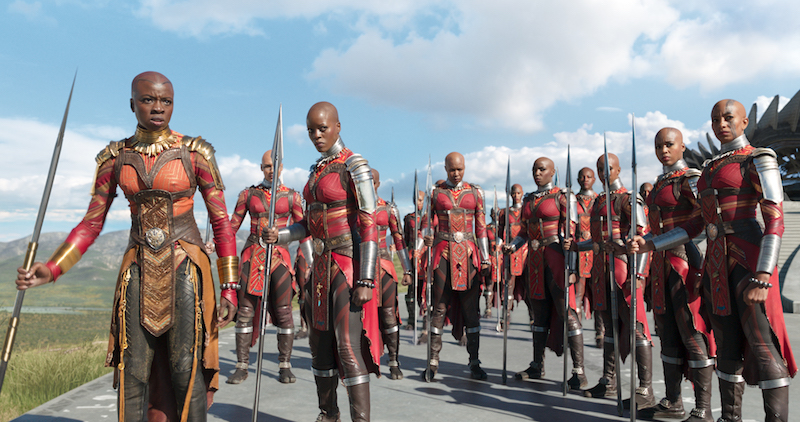 T'Challa's highly trained, all-female royal guard, the Dora Milaje, are the best representation of Wakandan courage under fire. Although the Black Panther comics are the 1966 invention of Marvel's Stan Lee and Jack Kirby, the Dora Milaje came into being in 1998, when the Black Panther comics were written by Christopher Priest and illustrated by Mark Texeira. An interesting part of the comic book mythology doesn't make it into the film: the Dora Milaje also serve as a garden from which T'Challa is to eventually pluck a wife. 
Under Ryan Coogler's cinematic direction, the women warriors lose the distinction of wives-in-waiting and appear closer to equal partners in their mutual fight to protect Wakanda from outsiders. Nakia, a spy, declines T'Challa's attempts at romantic reconciliation early on because she wants freedom to pursue her dreams. Even the comic book version of the Dora Milaje demonstrates that their allegiance to their king (and potential husband) has limits; they oppose T'Challa and break loyalty with him when they feel he exposes Wakanda to danger in Roxane Gay's World of Wakanda spin-off.
Both on screen and in the literature, Black women are Wakanda's true north.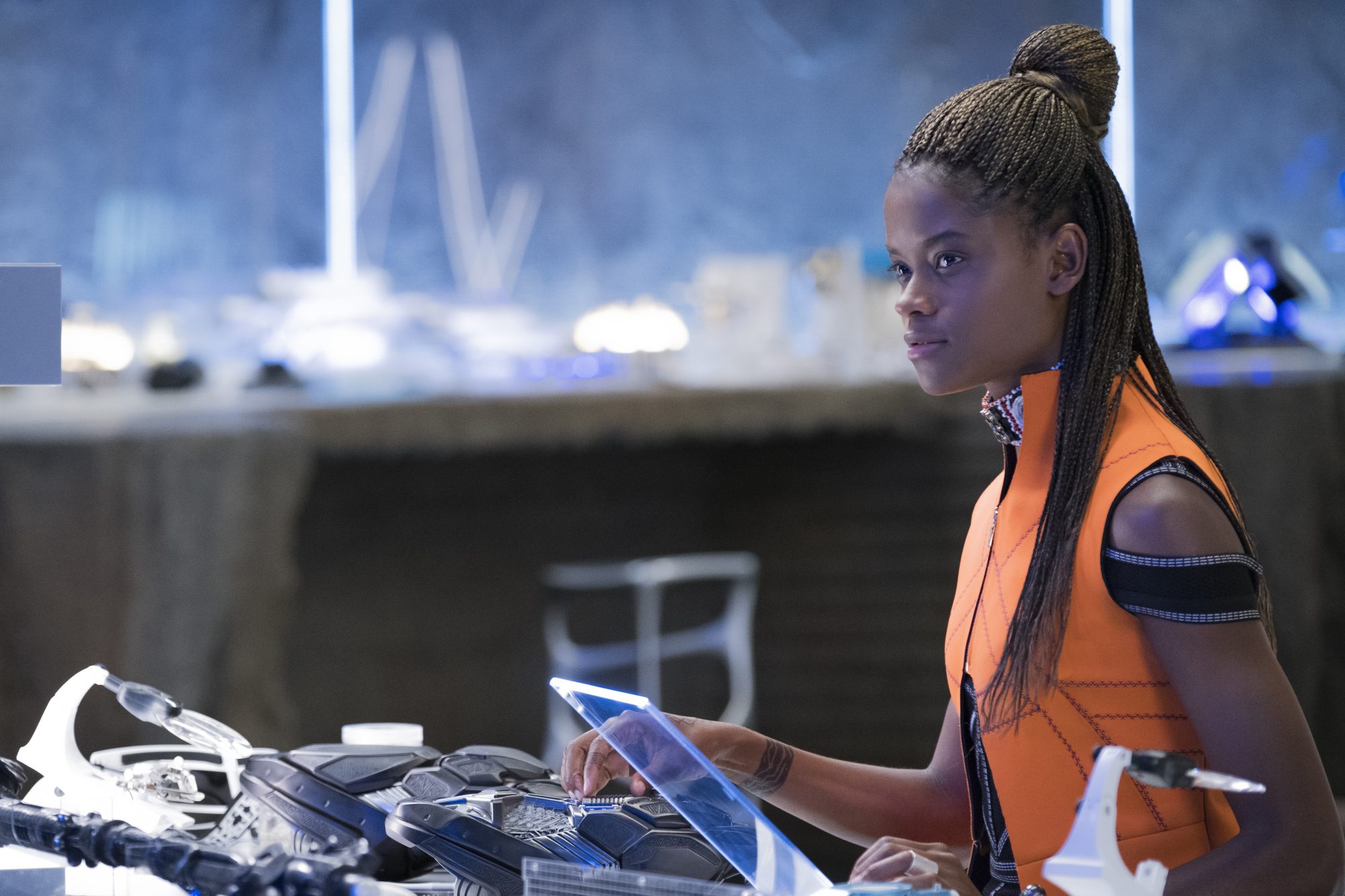 It strikes me as poetically appropriate that Black Panther receives his superhuman strength and agility from a connection with a goddess, Bast. His consideration of and respect for the female influences in his life eventually save him. In the film, Nakia helps Queen Mother Ramonda and Princess Shuri get away from immediate harm following Erik "Killmonger" Stephens's unexpected takeover of Wakanda. Although Okoye initially refuses to overthrow the throne in order to keep her vows as its sworn protector, she raises her voice in the council against the usurper's plans to spread Wakandan weapons across the globe.
When T'Challa's former lieutenant W'Kabi (Daniel Kaluuya) misplaces his loyalty with Killmonger, the Dora Milaje strikingly take arms against the men of his tribe. Okoye stands in front of W'Kabi, the love of her life, during that thrilling clash and promises to end his life out of devotion to her people.
However, you don't have to live in Wakanda to see examples of how Black women have shown up for their communities time and time again.
The Dora Milaje are literally superheroes, but real-life rhetoric of Black women "saving" America from herself out of sheer altruism misses the mark. As with the Dora Milaje, Black women have long placed their bodies on the front lines because we see ourselves as inextricable from the fate of our communities. And we have done so even when our communities do not consider us to be full citizens — or even full human beings. 
In Nakia's esponiage, I envision fellow spy and abolitionist Harriet Tubman telling fellow runaway slaves, "You'll be free or die, when they wearied perilously on the path to freedom.
Nakia's passion for justice and humanitarianism invokes the women of the Black Panther Party, who did everything from leading the political operations, to care-taking, to protecting members of the community from police brutality during the Civil Rights Movement. When I watch Okoye, I imagine how magnificent it must have been to behold Jamaica's Queen Nanny of the Maroons, a military leader and founder of a town of formerly enslaved Africans. 
Even the women who are not officially responsible for Wakanda's defense show remarkable strength and courage. At 16, Princess Shuri is the wunderkind behind the country's tech, but she doesn't hesitate to take on a physically imposing Killmonger. Angela Bassett's portrayal of wise Queen Mother Ramonda compels me to give honor to the ferocity of Yaa Asantewaa, Queen Mother of Ejisu in modern-day Ghana. 
With her people under attack from British colonizers, Yaa Asantewaa famously said, "If you, the men of Ashanti, will not go forward, then we will. We the women will. I shall call upon my fellow women.
In that spirit, Black Panther pays homage to centuries of female resistance to colonization, oppression, and injustice throughout the African Diaspora.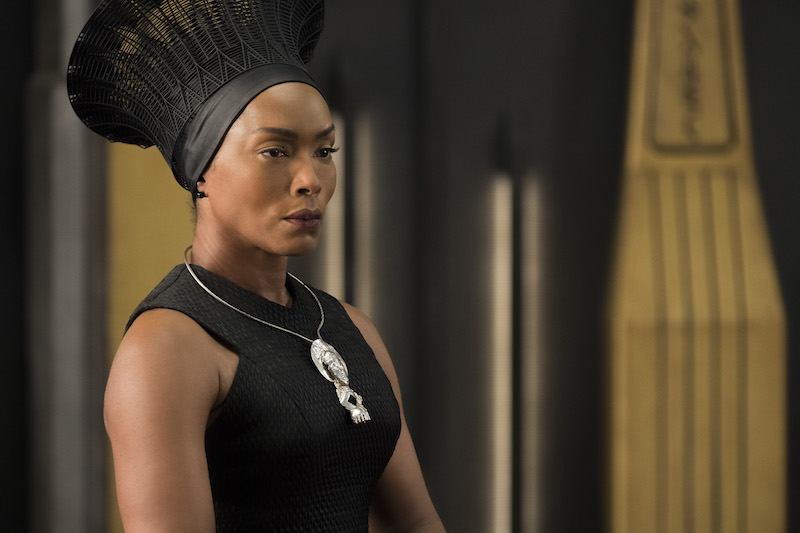 Throughout history, Black women around the world have a legacy of not shrinking away from battle — despite the sexist and racist barriers that have constricted (and still limit) their freedoms.
A film depicting Black women as warriors may not have been possible when Black Panther first came into being in 1966. But in this era, when Black Diasporan women have spearheaded movements to #BringBackOurGirls and to tell the world that Black Lives Matter, the fictitious warrior women of Wakanda represent roles Black women have always occupied. It is about time we see it on screen. Today, we can point our daughters to the images of strong women in Black Panther because our foremothers had enough sangfroid to say, "I never freeze."