Black Panther production designer Hannah Beachler just made Oscars history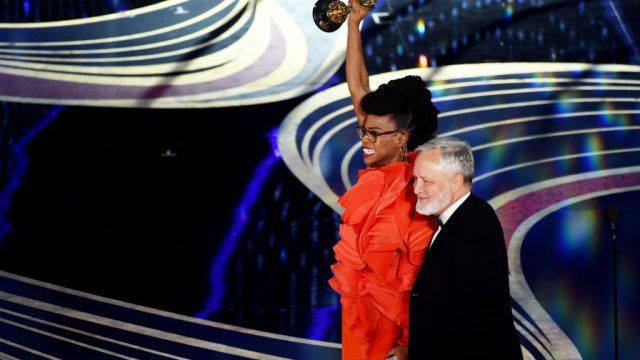 When Black Panther production designer Hannah Beachler was nominated in the Best Production Design category earlier this year, she made history as the first African American ever to receive that nod. And at the February 24th Academy Awards, she went one step further—she won.
In her 2019 Oscars speech, an emotional Beachler thanked director Ryan Coogler, saying she "stands here with agency and self-worth" because he offered her a "safe space" to create and was patient and motivational throughout the filmmaking process.
She continued:
"I'm stronger because of my family, who supported me through the roughest of times. I give this strength to all of those who come next—to keep going, to never give up. And when you think it's impossible just remember to say this piece of advice I got from a very wise woman: 'I did my best, and my best is good enough.'"
Beachler was the fourth black woman to receive an Oscar during the telecast and the second to make history; Black Panther costume designer Ruth Carter became the first African American to win an award in that category.
Aside from Black Panther, you've seen Beachler's work in Moonlight, Creed, and even Beyoncé's Lemonade. Needless to say, this award was beyond well-deserved.