Black Panther suits up for war in the latest trailer for the Marvel movie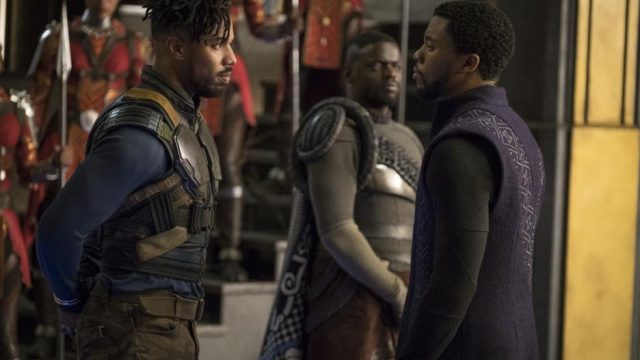 If you're anything like me, then superhero movies aren't exactly something you tend to freak out about. But recently, with the new Wonder Woman film dominating box offices, I've kind of been thinking that maybe, movies about people with super-human powers might not be so bad after all. And now, after the latest trailer for Black Panthershows the total boss suiting up for war, while Kendrick Lamar raps in the background? You can definitely count me in.
The newest trailer premiered during Monday night's College Football Playoff national championship game, immediately after Lamar's halftime performance. In the trailer T'Challa, played by Chadwick Boseman, can be seen fighting enemies and defending his place as King of Wakanda.
Oh, and if you're a little confused about this plotline, don't worry. One line in the trailer totally sums it up: "The king of a third world country runs around in a bulletproof catsuit." Obviously, like most superhero movies, Black Panther relies on the world of fiction and pretend. But that doesn't mean that the movie is going to be any less awesome. Alongside Boseman, Black Panther also stars Michael B. Jordan, Andy Serkis, and Lupita Nyong'o, which means there's plenty of star power in Wakanda right now.
https://www.youtube.com/watch?v=PJBmeqpw3DY?feature=oembed
Black Panther will be released on February 16th, but until then you could totally listen to some Kendrick Lamar to get you in the butt-kicking mood. Not only is he featured on the trailer, but he's also overseeing and producing the soundtrack. And once the internet found out about this? Well, they were collectively overcome with excitement.
false
Based on the upcoming movie's cast, soundtrack, and intense fight scenes, Black Panther is sure to be another huge blockbuster smash.