Kendrick Lamar is going to produce the "Black Panther" album, and the first single is here *right now*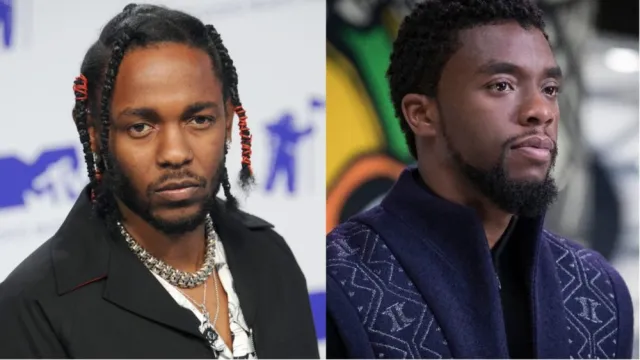 As if we weren't already counting down the days to the release of Marvel's Black Panther next month, we now have another reason to get super excited: Award-winning rapper Kendrick Lamar will produce the film's album, entitled Black Panther: The Album. Lamar will join Anthony "Top Dawg" Tiffith in handling curation and production duties, and the two will work closely with Black Panther director Ryan Coogler to create music for the film.
This is kind of a *big deal* for Lamar, who Coogler hand-picked.
Because this is the first time he will write, produce, perform, and curate for a major motion picture — and hopefully, the first of many.
"I am honored to be working with such an incredible artist whose work has been so inspirational, and whose artistic themes align with those we explore in the film. I can't wait for the world to hear what Kendrick and TDE have in store, said Coogler in a press release.
Lamar echoed Coogler's excitement and we officially need this movie to come out, like, yesterday.
"Marvel Studios' Black Panther is amazing, from its cast to its director. The magnitude of this film showcases a great marriage of art and culture. I'm truly honored to contribute my knowledge of producing sound and writing music alongside Ryan and Marvel's vision."
But the best part? We don't have to wait until the film's February 16th release to get a taste of the album because the first single, "All The Stars," featuring K.Dot and label mate SZA, is already out and you can listen to it right now. Yes, RIGHT NOW.
https://www.youtube.com/watch?v=GfCqMv–ncA?feature=oembed
Just in case you need a reminder, Black Panther follows T'Challa (Chadwick Boseman) who returns to his home of Wakanda following the death of his father (and king of the African nation) to assume the throne as the new king — and naturally, trouble follows suit.
https://www.youtube.com/watch?v=xjDjIWPwcPU?feature=oembed
Michael B. Jordan, Lupita Nyong'o, and Danai Gurira also star, among others. We're counting down the days until it lands in theaters, but at least we have this amazing Lamar news (and single!) to hold us over.