15 "Black Panther"-inspired nail designs that will make you bring your claws out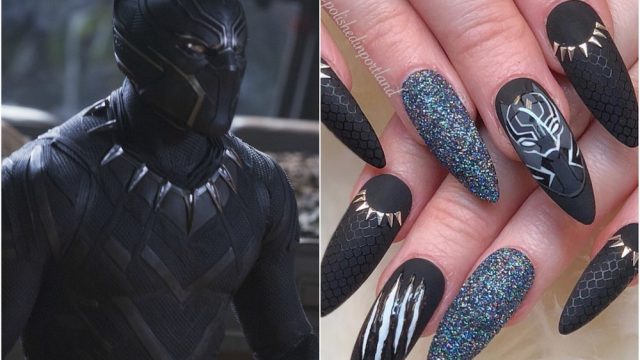 Game-changing superhero blockbuster hit Black Panther has inspired countless gorgeous sartorial tributes, so naturally, nails are playing a supporting role.
Fans dressed to the nines, decked out in traditional African outfits and remixes inspired by the film during Black Panther's record-shattering opening weekend. And costume designer Ruth E. Carter's Afrofuturist creations, as well as design elements from the original comics series, translate beautifully not just to fan-improvised outfits but also to the tiny canvas of a fingernail.
Instagram is chock-full of talented nail artists and creative clients showing off their Black Panther tribute tips. These nails are as strong as vibranium and fit for the flick's awesome female leads. Nails and nail art have long been intertwined with Black culture. Black women as clients and nail techs pioneered many of the nail looks and innovations that have since made their way to the "mainstream." Black History month and the release of this history-making movie are great reasons to recognize the originators of the nail game as we know it today.
Check out some of our favorite Black Panther manicures:
1It's a family affair.
https://www.instagram.com/p/BfREoJmhFfW
This babe's mom is her nail artist! Each digit pays tribute to one of the movie's characters. Swipe through to see the inspo.
2Niecy's nails.
Celebs definitely got in on the action. Swipe through for Claws star Niecy Nash's nails.
3Make a statement.
If you're going to do just one accent nail, this is how to do it.
4Gambia Forever.
https://www.instagram.com/p/BfO8PfhAsS7
These almond-shaped, medium-length nails were inspired by the film and the client's Gambian roots.
5Gold-encrusted glory.
These ornate and intricate short square nails have tons of texture.
6Title page.
An element from a custom set created by one of our faves, Gracie J.
7Geometric glitter.
This matte and shimmer combo, plus a jeweled panther head, is elegant AF.
8Attention to detail.
Black Panther's mask and necklace, Nakia's armor, and the Wakandan flag inspired these handpainted digits.
9The revolution will not be televised.
Incredible detail and a beautiful color scheme.
10Fierce.
More matte for sick dimensionality.
11Short 'n' sweet.
A shorter version of the above look is just as tough.
12Classic combo.
A mix of geometric lines and pops of color makes these natural nails eye-catching.
13Slayed.
African fabric patterns on a light pink nail in a coffin shape = slayed.
14Fit for royalty.
https://www.instagram.com/p/Be4qgSpFgVc
Royal purple and sunny yellow accentuate these perfect and intricate portraits.
15Rawr!
Obsessed.
Wakanda (nails) forever.