Danai Gurira was so nervous to shave her head to play the strongest female warrior in "Black Panther"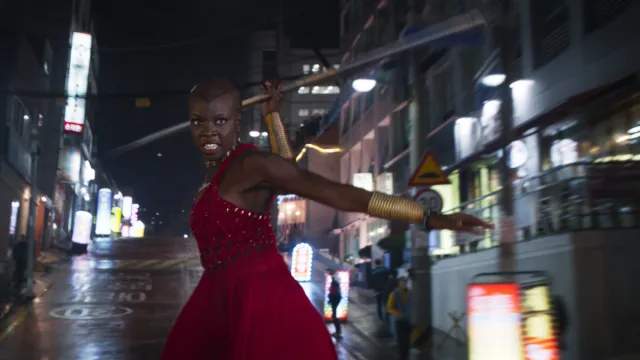 Rocking a shaved head is not an easy task, but Danai Gurira, star of Marvel's upcoming Black Panther, does so effortlessly and can be seen looking flawless in Rodarte's fall lookbook. But Gurira revealed in a recent Black Panther press conference in Los Angeles that she was initially hesitant to adopt the hairstyle she now wears so well.
Gurira plays Okoye in Black Panther, the strongest warrior in Wakanda not named Black Panther. Her character leads the Dora Milaje, the all-female Wakandan Special Forces, all of whom sport shaved heads. When Gurira and the other incredibly talented female cast members — Angela Bassett, Lupita Nyong'o and Letitia Wright — were asked about the wealth of fully-developed female characters in the film, Gurira talked about the Dora Milaje and the process of transforming her hair for the film.
"It was amazing the idea of the Dora Milaje, the concept of them, and then to see them come to life, and then these outstanding women who I started training with one by one," she told the crowd. "Like I was the first one to get my head shaved and in theory it sounded amazing. Then the day came and we're doing it today and I was like, 'Today?' Then it happened. Then you go into the restroom to wash your hands, and you look up and you're like, 'What the?' So that took a few days, and then all the girls start coming in. We'd all been bald'ed, one by one. Everybody had their caps on. Then the pride started to grow
Soon, Gurira and her co-stars got more comfortable with their new look and Gurira learned from her character, who wears a wig as disguise in an amazing fight scene set in South Korea. In the scene, Okoye complains about having to wear the wig and sheds it in one the most memorable moments in a movie filled with memorable moments.
"The beauty of how [director and co-writer Ryan Coogler] wrote that moment, I love that moment where she doesn't want a wig," the actress continued. "She doesn't want to cover up. This is her joy and her pride, in walking with that bald head, with that tattoo on it. I was like, it's so subversive, and it's so subversive in the right way to say that's not necessarily beauty. You don't have to have hair to be beautiful.
You can see Danai Gurira kick some major ass when Black Panther opens in theaters on February 16th.