The Black Panther blooper reel will make you wish for a sequel *right now*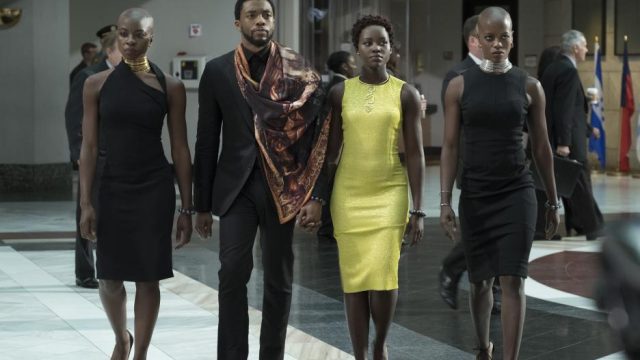 Marvel's Black Panther is already the world's most perfect film, so it's hard to believe it could get any better. That is, until Lupita Nyong'o tweeted out a clip of Black Panther bloopers that are so funny, so ridiculous, and so perfect, you'll probably never watch Black Panther the same way again.
The Black Panther bloopers will be available with the new DVD release, and this taste of hilarity is the only convincing I need for Black Panther 2.
"Why lie?" wrote Oscar winner and Black Panther star Nyong'o on Twitter, "The Black Panther bloopers are lit." Lupita is right about all things in general, and she's especially right about this. From Michael B. Jordan's dance moves to Angela Bassett calmly cursing to Danai Gurira goofing around between takes, you'll be screaming Wakanda Forever at your phone before you even know it. And um, did I mention that Michael B. Jordan dances in it? Because he does. There could be a separate set of Black Panther bloopers dedicated to Killmonger just messing around, and we would be all for it.
There's no word on whether Killmonger dropping "Hey, Auntie" for the first time makes the cut, but that heart-stopping moment was *famously* improvised by Michael B. Jordan
Costar and general flawless queen Angela Bassett revealed to BuzzFeed that he just made up that line on the spot, and it was so perfect, they had to leave it in. Understandable. So please, enjoy this teaser clip of the many, many Black Panther bloopers that are out there. Do you have a favorite? Is it all of them? Yes. But also, any time the set malfunctions is hilarious.
The Black Panther DVD drops soon, so grab your Vibranium-line tents and get in line for it now. You don't want to miss out on the entire blooper reel, do you? I know I don't.