These behind-the-scenes pictures from "Black Panther" are definitive proof that the cast had the BEST time filming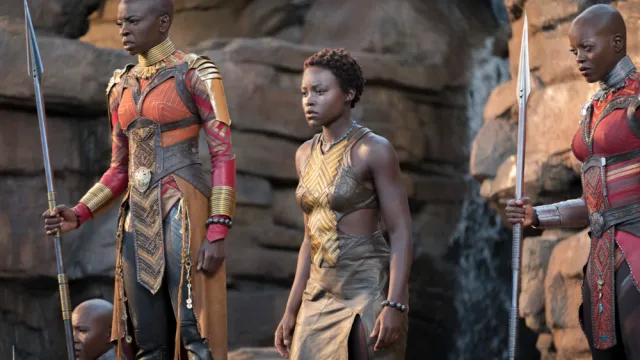 Black Panther is officially out in theaters and unsurprisingly, it's currently the biggest film in the world. During its opening weekend, Black Panther grossed more than $404 million worldwide, breaking so many records in the process.
As we're still in awe at the absolute masterpiece of a film from director Ryan Coogler — and still reeling from the serious cast chemistry during the film's press tour — we can't even begin to imagine the incredible time the cast must have had while filming the Marvel movie.
Fans got a small taste of what it was like after Lupita Nyong'o challenged co-star Michael B. Jordan to do a push-up during a Twitter Q&A, prompting Coogler to reveal the on-set "on-call push-up" betting policy the cast had during filming. But wait, there's so much more…
Throughout the filming of Black Panther (and afterward!), the cast took to social media to share behind-the-scenes pictures and videos from set, and because we're obsessed with each and every cast member, we took a deep dive through ALL of their Instagrams and found our favorite behind-the-scenes moments.
And what we found is actually glorious…
Chadwick Boseman gave us a preview of T'Challa in action with his closest advisors:
Lupita Nyong'o revealed that acting can get a *bit* messy at times:
https://www.instagram.com/p/BQlEmFfhJ56
The cast went on a group excursion to see Get Out:
https://www.instagram.com/p/BQ-lI2UjsJp
Nyong'o, Danai Gurira, and Daniel Kaluuya had a joint Coming to America birthday party and the cast and crew were on-hand to celebrate:
https://www.instagram.com/p/BRV7JRdDZta
https://www.instagram.com/p/BRRdHPtD74a
They got Kaluuya to cameo in their Get Out challenge, and it was GOLD:
https://www.instagram.com/p/BSo8qN6jv1l
An outtake from the Get Out challenge revealed that Gurira wasn't entirely sure what was going on:
https://www.instagram.com/p/BSMvwJcDqIk
Boseman revealed Martin Freeman's hidden talent:
Winston Duke still couldn't believe he was starring in a film with Angela Bassett:
Boseman revealed Chance the Rapper and his daughter came to set in what was probably the best day ever:
The cast celebrated the end of filming with style:
And finally, the cast went nuts celebrating when the first footage was unveiled at 2017's San Diego Comic-Con:
Just looking at these photos makes us want to drop what we're doing and go see Black Panther again. Knowing that the cast had the best time making the movie definitely adds something extra to the already mind-blowing (and stereotype-shattering) film.