10 Movies Directed by Black Women That Deserve All the Streaming Love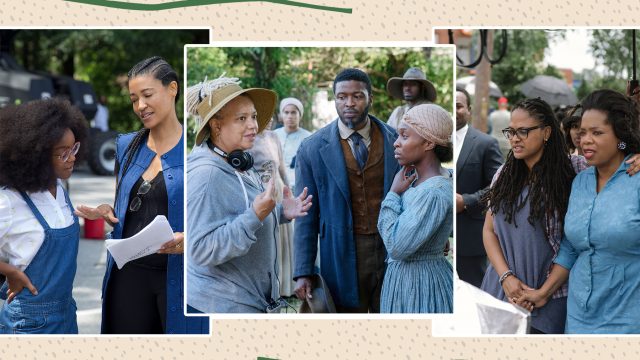 It's no secret that Hollywood has a long way to go when it comes to championing diversity. Year after year we watch award shows continually praise works that have been directed and produced by cis white males, and movements like #OscarsSoWhite, #MeToo, and Times Up have shed light on just how apparent the lack of diversity is. But as consumers, we have the power to move the needle, and frankly, demanding more representation is something we should have been doing all along. Specifically, highlighting films made by incredible Black female directors as a way to commend their work and show that there is a need for more.
Each year, the Ralph J. Bunche Center for African American Studies at UCLA releases a Hollywood Diversity Report, which dissects top movies along with broadcast, cable, and digital shows to give the breakdown of actors, producers, directors, and staff. According to the most recent study, in 2019, women made up only 32.9% of film leads, 12.6% of film directors, and 12.6% of film writers—and that doesn't even cover the diversity. One study conducted by USC Annenberg found that out of the 1,200 top-grossing films released between 2007 and 2018, only nine were directed by women of color.
These movies—from thought-provoking tear-jerkers to roll-on-the-floor comedies—are told from the female gaze with power, empathy, and wit. They offer an artistic view that's rich in emotional depth and complexity, and they're proof that we need more Black women in all aspects of film and media. If you're looking for your next Friday night movie watch, check out these awesome movies directed by badass Black women.
Juneteenth (2020)
Directed by: Channing Godfrey Peoples
A touching story about the bond shared between mothers and daughters, this timely, recently released film is set in Texas, where Channing Godfrey Peoples grew up. It follows a former beauty queen and single mom as she prepares her reluctant, rebellious teenage daughter for the "Miss Juneteenth" pageant. It's a story about dreams and disappointment, resilience and survival, told in a captivating way by Channing People.
[button title="Watch It Now" src="https://www.amazon.com/Miss-Juneteenth-Nicole-Beharie/dp/B088XPHNH9″ /]
Little (2019)
Directed by: Tina Gordon
Starring Issa Rae and young Black-ish star Marsai Martin, this body-switch comedy tells the story of a ruthless tech company mogul who is transformed into a 13-year-old version of herself and must learn to curb her perspective (and rely on her mistreated assistant) in order to change back.
Not only was this directed by an incredible Black female director, but the film was executive-produced by 14-year-old Martin, making her the youngest executive producer in Hollywood.
[button title="Watch It Now" src="https://www.youtube.com/watch?v=-LcQg45O5jk" /]
Harriet (2019)
Directed by: Kasi Lemmons
You need to watch this Academy Award-nominated biopic about Harriet Tubman. Kasi Lemmons both directed and cowrote the screenplay for this powerful film about the life of the historical activist who freed hundreds of slaves and changed the course of history. Cynthia Erivo transforms as Harriet Tubman, giving a noteworthy and moving performance of courage and compassion.
[button title="Watch It Now" src="https://www.amazon.com/gp/video/detail/amzn1.dv.gti.e0b6ed2b-a513-416f-7176-165c73468695?autoplay=1&ref_=atv_cf_strg_wb" /]
Tall Girl (2019)
Directed by: Nzingha Stewart
When the tallest girl in high school falls for a handsome foreign exchange student and becomes entangled in a surprising love triangle, she learns to confront her insecurities and find the confidence to proudly stand tall. Though Stewart may have initially faced backlash about the movie before it aired on Netflix, in the end, she told a heartwarming coming-of-age story of self-acceptance.
[button title="Watch It Now" src="https://www.netflix.com/title/81002412″ /]
Little Woods (2018)
Directed by: Nia DaCosta
Nia DaCosta's directorial debut stars the incredible Tessa Thompson and Lily James as two estranged sisters who are driven to live outside the law in order to survive after their mother dies. In the process, the two find themselves falling into the illegal world of the cross-border drug trade. Dubbed "intensely empathetic" by some reviews, the grim thriller certainly shows off DaCosta's excellent directing chops, with Thompson and James's killer performances at the forefront.
[button title="Watch It Now" src="https://www.hulu.com/movie/little-woods-731bbb18-2a1e-45cb-812d-1813acddc6ea?entity_id=731bbb18-2a1e-45cb-812d-1813acddc6ea" /]
Mudbound (2017)
Directed by: Dee Rees
Dee Rees both directed and cowrote this Academy Award-nominated film that's based on a 2008 novel of the same name by Hillary Jordan. Set in rural Mississippi during the Jim Crow era, the film highlights racism and PTSD through the experiences between one white and one Black World War II veteran as they both navigate life after the war. It's intense and visually stunning and was highly praised for its screenplay, direction, and the cast's performances.
[button title="Watch It Now" src="https://www.netflix.com/title/80175694″ /]
Selma (2014)
Directed by: Ava DuVernay
Notable director Ava DuVernay received widespread acclaim for her stunning depiction of the life and death of Martin Luther King Jr. in this historical biopic. The story follows King throughout his three-month journey to organize the famous peaceful march from Selma to Montgomery, Alabama, that would result in President Johnson signing the historic Voting Rights Act of 1965. From then on, racial discrimination was prohibited when it came to voting in the U.S.
[button title="Watch It Now" src="https://www.amazon.com/gp/video/detail/amzn1.dv.gti.3ca9f727-022e-c21d-8787-8584c463b841?autoplay=1&ref_=atv_cf_strg_wb" /]
Free Angela and All Political Prisoners (2013)
Directed by: Shola Lynch
If you're in the mood to watch a documentary, Shola Lynch's profile of college professor and activist Angela Davis is one that is particularly timely and incredibly interesting. Lynch details how the outspoken UCLA professor ended up on the FBI's Ten Most Wanted Fugitives list while challenging perceptions of both race and political freedom in America. It's enriched with intimate interviews and clips that tell a complex and compelling real-life story.
[button title="Watch It Now" src="https://www.amazon.com/gp/video/detail/B00EIR0MJA/ref=atv_dl_rdr" /]
Love & Basketball (2000)
Directed by: Gina Prince-Bythewood
Love & Basketball is one of those epic early-2000s love stories that you could watch over and over again. Directed and produced by Prince-Bythewood, it tells the story of two childhood friends who share the same passion and talent for basketball. It spans their lives as they both try to make it to the big leagues, despite their backgrounds leading them down diverging paths.
[button title="Watch It Now" src="https://play.google.com/store/movies/details?id=exv0KmpCwXE" /]
Daughters of Dust (1991)
Directed by: Julie Dash
Dash was hailed an incredible filmmaker during the 1991 Sundance Film Festival for this historical tale about a group of former West African slaves. Daughters of the Dust takes a deep look at cultural ties and generational shifts as some members of the South Carolina Gullah community seek to move away from their heritage at the turn of the century while others want to stay.
[button title="Watch It Now" src="https://www.amazon.com/gp/video/detail/amzn1.dv.gti.6eb7ff4a-ce65-ed69-e035-b888f92606b2?autoplay=1&ref_=atv_cf_strg_wb" /]
Respect (2021)
Directed by: Lisel Tommy
Though this one's not set to premiere until January 2021 due to coronavirus (COVID-19) cancellations, we can't wait to see Lisel Tommy's direction of Jennifer Hudson as the Queen of Soul. Respect will chronicle Franklin's iconic rise to fame, from singing in her father's church to selling out crowds and becoming one of the most recognizable voices and legendary musicians of all time.