Two black customers were handcuffed at a Waffle House for disputing a $1.50 overcharge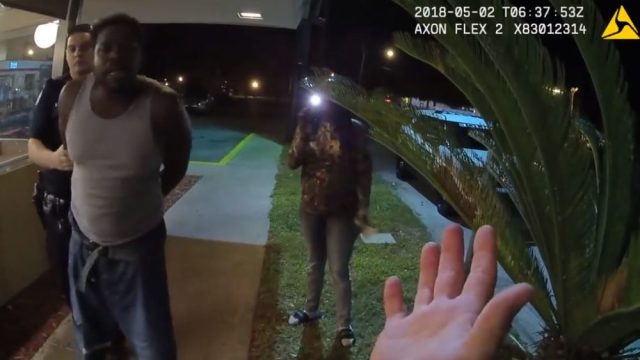 Over the past few months, several high-profile instances of racial profiling have (rightfully) made their way into the national spotlight. As many readers know, the wrongful arrest of two black men at a Philadelphia Starbucks led to a company-wide seminar on racial bias. Shortly after that, a black Yale student was nearly apprehended for merely napping in her own dorm common room. And the most recent egregious incident to come to light entails a black couple getting handcuffed at a Waffle House for questioning a $1.50 overcharge on their bill. Seriously.
According to Eater.com, employees at a Fort Walton Beach, Florida location called the police on the couple back in May after they questioned their bill. Shaun King, activist and journalist, posted police body cam footage of the incident to Facebook yesterday, June 13th. In the video, the two customers can be seen arguing about the $1.50 they were overcharged for orange juice, which they said was listed as $1 on the menu. Police ask the couple to step outside, where the officers inform them that if they don't pay the bill, they will be arrested for theft and trespassing. Amid protests from the man, one of the officers places handcuffs over his wrists.
"No, they didn't eat their food and refuse to pay," King wrote in his Facebook post. "In fact, their money is on the counter as they are being arrested."
In the video, a Waffle House employee tells the officers that the couple had misunderstood the orange juice pricing.
"On the menu, it says if you purchase any beverage you get 9-ounce orange juice for a dollar. We tried multiple times to explain that to both him and his significant other but yet they kept yelling and arguing," the employee told the officers.
Eventually, the couple was released, and the woman later returned to the store where she was given a full refund. According to Business Insider, Waffle House is still reviewing the incident.
In April, the chain faced similar backlash after footage emerged of police tackling 25-year-old Chikesia Clemons to the ground at an Alabama location as they arrested her for disorderly conduct. At the time, a company spokesperson told the Atlanta Journal-Constitution that Waffle House employees are trained to call the police "anytime there is concern about their personal safety or that of their customers."
We're disappointed by the way this latest situation unfolded, to say the least. Let is serve as a reminder that discrimination, both large and small-scale, happens to people of color every single day in this country. Now let's work to do better.